7 Renovations That Will Boost Your Property Value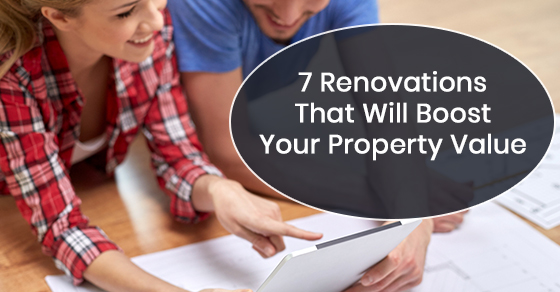 Are you looking to increase your home's property value? Here are 7 of the best renovations you can do to your home to make money on your next sale.
1. Flooring
If you upgrade your flooring, you'll see an immediate rise in property value. However, if you have existing hardwood floors that you can refinish, then do that! It will save you money. If you don't want to go with hardwood, tile is a high-value product that also ages well on the market.
2. Fixtures
Replacing or updating cabinet hardware, light fixtures, countertops, and faucets is a small, but effective way that homeowners can do to up the value of their home and revitalize dated spaces. 
3. Kitchen
The kitchen is the number one space that can make a significant difference in the resale value of your home. Try to stick to tried and true products that will appeal to any buyer on the market. Regardless of what you decide to go with, modern cabinetry, under cabinet lighting, and new appliances are sure-fire ways to boost the value of your home on the market. 
4. Bathroom
Besides the kitchens, bathrooms are the second most important area in the home in terms of adding value. Upgrading or even adding a three-piece bathroom to a home with only one bathroom is always a good idea, as long as it doesn't take away from the square footage of bedrooms and other vital living spaces (such as the kitchen or living room). 
5. An income suite
More than ever, people are looking to make money out of their properties. As a result, one of the best ways to increase the value of your home is to build an income suite. Convert your unfinished basement or garage into a trendy rental apartment. You will benefit from the investment as long as you own your home, and it will boost the value of your property when you decide to sell.
6. Curb appeal
First impressions are everything, especially when it comes to attracting potential buyers. While the real character of the home is on the inside, if buyers don't like how it looks from outside, they won't come in to see the real magic. Adding a tree, painting your door, or mowing your lawn will all help to boost curb appeal and the value of your property.
7. Upgrade appliances
Nothing says value like new appliances. Changing your fixtures to energy-efficient models with sleek designs will further improve the look and value of the home.
How We Can Help
No matter the state of your home, we work with our clients to design a future that best matches their needs, lifestyle, and budget. Let us help you increase the value of your home. To learn more, call us at 416-907-4764 today!
Leave a Comment
The comments are closed.