Did You Know You Shouldn't Keep These 11 Items in Your Bathroom?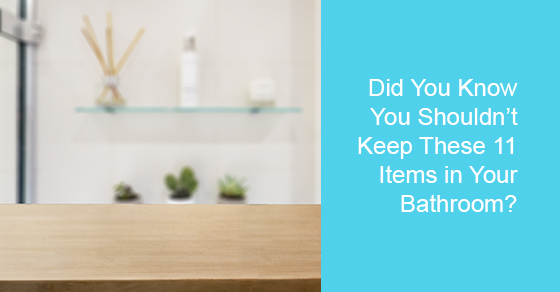 Your bathroom is one of the most essential rooms in your home. It is where you get ready for your day and prepare for going to sleep. However, as versatile as bathrooms are, there are some items that should not be kept in this space. Here are some things that you should not keep in your bathroom.
Toothbrush. This may be a surprise, as most people keep their toothbrushes in the bathroom. The reality, though, is that the moisture that collects in your bathroom promotes bacteria growth on your toothbrush.
Medications. Most medications are better kept in a cool, dry location. Even hidden in a medicine cabinet, moisture can compromise the medicine's efficiency. The collection of steam and water, combined with a lack of ventilation, make the bathroom a bad space to store your meds.
Towels. Keeping your towels in the bathroom for easy access may seem like a good idea, but it's not. Towels can collect moisture and become mouldy over time.
Bathrobes. Keeping your bathrobe hanging in your bathroom may seem convenient, but it puts your robe at risk for moulding and bacteria growth.
Makeup, brushes, and sponges. The humidity in the bathroom can cause makeup to crack or lose colour. Moisture collects in sponges and brushes, which can cause mould. Therefore, it is better to leave your makeup and accessories in your bedroom.
Jewelry. Your beautiful pieces of jewelry can become tarnished, change colour, or even rust if left in the bathroom. Keep them safe and stored away in a jewelry box that is kept outside of the bathroom.
Books. The pages of magazines and books can be damaged by the humidity in your bathroom. Leaving books in the bathroom for an extended period of time can also damage the binding.
Perfume. Leaving your favourite perfumes in a bathroom can cause them to sour and lose their fragrance. This is due to the variety of temperatures that happens in this space throughout the day.
Nail polish. Storing nail polish in your bathroom can cause it to go crumbly, become too thick, or lose its ability to blend properly. If this happens to your polish, it is best to toss it out.
Razor blades. While it is okay to keep the razor you are currently using in the shower, store razor blades in a different room. The humidity and heat in the bathroom can cause them to rust or become dull. If you want to prolong the life of your razor, dry the blades after each use.
Electronics. It can be a lot of fun to listen to your favourite songs as you prepare for the day. However, electronics and humidity are a bad mix. Consider investing in a shower radio if you just can't live without music in the bathroom.
Having the right space to start your day is vital to feeling prepared. If it's time to upgrade your bathroom, talk to a professional renovation company about bathroom concepts that fit your space.
If you are interested in learning more about bathroom renovations in Toronto, call Avonlea Renovations at 416-422-5276 or contact us here.
Leave a Comment
The comments are closed.