Kitchen and Bathroom Renovations in East York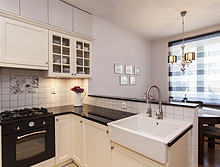 From the stately mansions of Parkview Hills to the family-friendly townhomes of Thorncliffe Park, Toronto's East York district is certainly a hidden gem. Cycling through the meandering ravine is always a treat. And so is grabbing a tasty lunch at one of the neighbourhood's ethnic eateries. The residents of East York are always calling on Avonlea Renovations to get the job done right. Our team has serviced a countless number of homes in the area. And we credit much of our success to word-of mouth referrals within the community.
On our website's photo gallery, you will see the quality of Avonlea's work. Our clients keep recommending us to their neighbours because we're trustworthy and always fair. You won't find any insincere contractors or soaring estimated costs here. Avonlea Renovations operates on professionalism and we let our track record speak for itself.
Whether it's kitchens with panoramic views of the park … kid-friendly bathrooms in colourful décor … or a complete re-design of your home's foyer – no job is too grand for Avonlea. Using only the finest materials and expert craftsmanship, our team can help turn your dreams into a reality. Bring the family to our illustrious showroom and browse through our samples at your own leisure. You'll certainly find something you love, and our trusted experts will be there to help you every step of the way!
Services include:
Home Renovations
Kitchen Renovations
Bathroom Renovations
Plumbing Services
Electrical Contracting
Framing
Back