Kitchen and Bathroom Renovations in Leslieville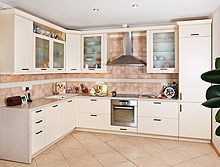 The trendiest bars, newest restaurants, and hottest concerts are now in Leslieville – and all of Toronto is invited! What was once an industrial area has been re-vamped into one of the city's hippest neighbourhoods. From single professionals to young, aspiring artists, Leslieville is home to Toronto's most diversified demographic.
Our showroom features a vast mix of the industry's trendiest looks. And you can bet our team is excited to help you experiment with a wide combination of colours and designs. Avonlea clients know they will never get this kind of attention from the 'Big Box' stores. Our experts will sit down with you to assess your needs. After that, we'll provide you with customized ideas and solutions based on your overall vision. Then we'll get working to turn your home renovation dreams into a reality.
Whether it's living rooms with breathtaking views of the park … kid-friendly bathrooms in colourful décor … or a complete re-design of your master suite – no job is too large for Avonlea!
Services include:
Home Renovations
Kitchen Renovations
Bathroom Renovations
Plumbing Services
Electrical Contracting
Framing
Back