Kitchen and Bathroom Renovations in Cabbagetown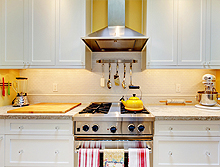 One of Toronto's hottest areas is no doubt Cabbagetown. Over the past 15 years, the neighbourhood has seen some serious gentrification. The colourful Victorian homes are a quaint reminder of the community's heritage and illustrious past. Residents from around the city descend on Cabbagetown for its pretty parks and recreational trails. The dog park at Allen Gardens is a treat for any pet, as is the wading pool at the family-friendly Wellesley Park. Avonlea Renovations understands the historical significance of many Cabbagetown homes. And that's why we're the team of choice for many home-owners in the area. Our team has re-designed many older homes, while always respecting the original framework of the residence.
If you're looking for a kitchen that boasts a panoramic view of the park, call Avonlea. Or maybe you'd like to change up the tiling and vanity décor in your master bath? Avonlea's extensive showroom can help you do just that.
Our clients all tell us the same thing: Browsing through Avonlea's showroom is a treat! We've got marble tiles, granite countertops, glass backsplashes … in a superior range of colours and textures. Our showroom is staffed with design experts who will walk you through every step of the process. Avonlea clients know they will never get this kind of attention from the 'Big Box' stores. Our experts will sit down with you to assess your needs. After that, we'll provide you with customized ideas and solutions based on your overall vision. Then we'll get working to turn your home renovation dreams into a reality.
On our website's photo gallery, you'll see the quality of Avonlea's work. Our clients keep recommending us to their neighbours because we're trustworthy and always fair. You won't find any insincere contractors or soaring estimated costs here. Avonlea Renovations operates on professionalism and we let our track record speak for itself.
Services include:
Home Renovations
Kitchen Renovations
Bathroom Renovations
Plumbing Services
Electrical Contracting
Framing
Back