Kitchen and Bathroom Renovations in the Beaches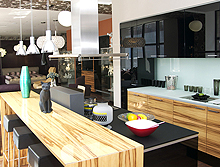 Whether you're taking a stroll along the Boardwalk or browsing through one of the local boutiques, the Beaches community is the perfect setting for any Toronto family. The neighbourhood has a mix of heritage waterfront homes and trendier duplexes just north of the shoreline. Avonlea Renovations is proud to have worked on some of the Beaches' most unique residences.
If you're looking for a kitchen that boasts a panoramic view of the lake, call Avonlea. Or maybe you'd like to change up the tiling and vanity décor in your master bath? Avonlea's showroom can help you do just that.
At Avonlea, we know our clients want personalized attention. What works in one family's home may not suit the needs of yours. That's why all of our suggested designs, colours and layouts are created just for you. And we know that shopping for cabinetry and backsplash tiles in our showroom is tons of fun. But not-so-fun is dealing with all the plumbing and electrical. Let Avonlea be your one-stop shop. Let us deal with all the technical stuff, so you can enjoy the finer aspects of home renovation!
Services include:
Home Renovations
Kitchen Renovations
Bathroom Renovations
Plumbing Services
Electrical Contracting
Framing
Back