KITCHEN AND BATHROOM RENOVATIONS TORONTO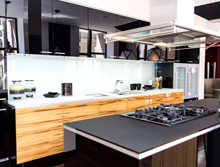 Avonlea Kitchen and Bathroom Concepts is proud to serve homeowners in Canada's largest city. The Toronto real estate industry remains one of the hottest markets in the world, so it's no surprise many Torontonians are well-versed in today's housing trends — with a keen interest in how to increase the property value of their homes.
As Canada's main economic hub, the city has a population of 6.5 million in the Greater Toronto Area. It is home to the Toronto Stock Exchange, and all five of the country's largest banks. In the last 30 years, this vibrant city has experienced a major immigration boom, bringing a diverse mix of people to the region. Together, talented immigrants and Canadian-born residents are fuelling the city's workforce. The end result is a city that generates about a fifth of Canada's GDP.
Avonlea owns one of Toronto's premier renovation showrooms in Toronto's east end. Conveniently located in the Woodbine and Danforth area, our office is a popular destination for homeowners looking to remodel their existing interiors. In our showroom, clients are able to experience firsthand the types of services and product lines we offer. You can not only browse our portfolio of recent accomplishments but also find inspiration by looking through our wide selection of finishes.
Whether you're looking for a full kitchen overhaul or custom bathroom fixtures, Avonlea can offer you excellent service that prioritizes your needs. Here are just some of the services our company can offer:
Kitchen Renovations
Electrical rewiring and lighting configuration
Custom cabinetry, trim and millwork
Countertops, tiling and flooring
Plumbing, framing, drywalling and painting
Bathroom Renovations
Removal and installation of all fixtures
Countertops, tiling and flooring
Insulation and soundproofing
Heating, radiator and ductwork
When planning your project, leave the logistics to our contractors and design team. Meanwhile, our administrative staff will take care of the paperwork and finer details for you. From complete kitchen teardowns to modern bathroom upgrades, Avonlea has the expertise to accommodate any project from start to finish. Contact our team today, and see why Avonlea is Toronto's preferred choice when it comes to home renovations!
Back