Kitchen and Bathroom Renovations in the Danforth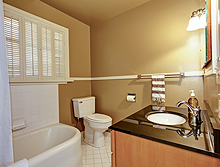 From Little Ethiopia in the East to the popular Greektown towards the West, Toronto's Danforth community is certainly a symbol of the city's famous multiculturalism. The Danforth is lined with Toronto's best eateries and some of the city's most charming homes just steps away. Avonlea Renovations has re-vamped some of the neighbourhood's oldest bungalows and semi-detached homes — turning them into beautiful residences that would make any community proud.
Our clients all tell us the same thing: Browsing through Avonlea's showroom is a treat! We've got marble tiles, granite countertops, glass backsplashes … in a superior range of colours and textures. Our showroom is staffed with design experts who will walk you through every step of the process. Avonlea clients know they will never get this kind of attention from the 'Big Box' stores. Our experts will sit down with you to assess your needs. After that, we'll provide you with customized ideas and solutions based on your overall vision. Then we'll get working to turn your home renovation dreams into a reality.
Avonlea is known in the city for its successful kitchen and bathroom renovations. But that's not all we do. Our repertoire also includes plumbing services and electrical contracting. The company is staffed with experts in all areas of home renovation.
So get in touch with Avonlea and let us inspire you. Your dream home is just a phone call away!
Services include:
Home Renovations
Kitchen Renovations
Bathroom Renovations
Plumbing Services
Electrical Contracting
Framing
Back