Kitchen and Bathroom Renovations in Leaside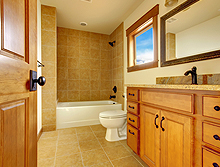 The picturesque neighbourhood of Leaside is a dream location for many families in Toronto. The area is made up of single-family dwellings, housing upper-middle-class families. Its good schools and thriving business area are just some of the reasons why real estate values in Leaside are at a premium. Avonlea Renovations is a household name in some circles. We've re-designed Leaside's homes with families in mind. From kitchens featuring breakfast nooks to bathrooms with kid-friendly conveniences, we've done it all. And our past clients will tell you we get the job done right – the first time around.
On our website's photo gallery, you will see the quality of Avonlea's work. Our clients keep recommending us to their neighbours because we're trustworthy and always fair. You won't find any insincere contractors or soaring estimated costs here. Avonlea Renovations operates on professionalism and we let our track record speak for itself.
At Avonlea, we know our clients want personalized attention. What works in one family's home may not suit the needs of yours. That's why all of our suggested designs, colours and layouts are created just for you. And we know that shopping for cabinetry and backsplash tiles in our showroom is tons of fun. But not-so-fun is dealing with all the plumbing and electrical. Let Avonlea be your one-stop shop. We can deal with all the technical stuff, so you can enjoy the finer aspects of home renovation!
Services include:
Home Renovations
Kitchen Renovations
Bathroom Renovations
Plumbing Services
Electrical Contracting
Framing
Back