7 Signs Your Bathroom Needs Renovating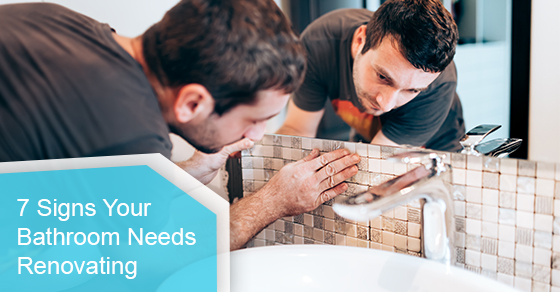 Homeowners that are considering renovations may not know where to start. There are so many upgrades that can be made with the help of a renovation professional. However, some may be more urgent than others. Here are things to watch for that signal it is time to renovate your bathroom.
Too much water leakage. One of the central elements of bathrooms is water. Sinks, showers, taps, and toilets are all the basic features of a bathroom, and they all need water. That means there are a lot of pipes behind the wall of your bathroom. When one of these pipes leaks, it can cause some severe damage to the wall and the interior of your home.
Damaged floor. With so much water in one room, it can lead to floor damage. If there has been a leak behind the scenes, it may be more evident in your floor rather than your walls. Floors that are stained, discoloured, or lifting up are signs that you should renovate your bathroom soon.
Mould. Bathrooms are an ideal space for mould to thrive. The warm and wet environment is perfect for these dark spots to appear on your ceiling or around the tub. Once it becomes visible, mould will only get worse. It is a signal that you need to renovate your bathroom urgently, as mould is a health risk to you and your family.
Peeling paint. Steam that accumulates in the bathroom can cause the paint to peel off the walls. This can be an unattractive nuisance. However, you can fix peeling paint by using more modern paint products to withstand water damage better than those from years ago.
Outdated appearance. Sometimes, it is clear that your bathroom needs to be updated if the look is no longer current. For some homeowners, this may be something they have gotten used to, but if you are hoping to sell your home, you must make some changes to the bathroom.
Poor lighting. Standard lighting options and trends in homes have changed over the years. What was once considered sufficient lighting may not be enough anymore. If your bathroom is dark or dim, you may want to consider renovating your lighting. There may also be some additions you can make to brighten the space, including heat lighting.
Insufficient storage. When you first bought your home, your family may have been smaller, and the storage in the bathroom was enough. However, as your family grows, so does your need for storage. There are many ways to add storage space to your bathroom. You may use virtual storage options as a more efficient way to use the room you already have.
If you are interested in learning more about bathroom renovations in Toronto, call Avonlea Renovations at 416-422-5276 or contact us here.
Leave a Comment
The comments are closed.