Things to Consider When Renovating in the Winter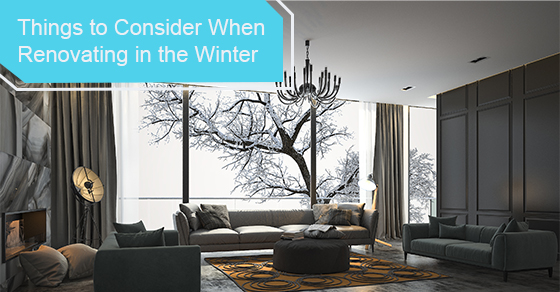 Renovating in the winter can have its own unique challenges, but it can also be the ideal time to get the work done. Here are some things to keep in mind if you are planning a winter renovation:
Have a plan. Renovation projects should never be started without adequate planning, especially in the winter. Before you start contacting kitchen renovators in Toronto, create a plan covering the weather forecast, cost of materials and supplies, and where you will be staying until the work is done.

Cost savings. Because winter is a slower period for many contractors, you'll likely be able to save some money. Don't be afraid to negotiate on the cost and call around to get a good price. In addition, contractors that might be too busy to help you over the summer may have more availability during the colder months, which means you'll be able to hire high-demand help.

Ideal indoor projects. Winter is too cold to consider any exterior updates for your home, but any indoor projects are a good fit. That includes bathroom or kitchen renovations, painting, or even replacing your flooring.

Be considerate. Even though you will be working indoors on your winter renovation project, it is courteous to let your neighbours know what is going on. Another way to be kind to your neighbours is to keep the work to daylight hours. This allows them to enjoy a quiet evening. Also, remember not to block driveways or roads with vehicles or materials.

Avoid stockpiling items. Renovating can mean extra materials and supplies taking up space in your home. To keep things from getting too cluttered inside, forgo stocking up on any extra items, no matter how good the deal is.

Keep the sidewalk clear. Ensuring that your contractors have a safe space to work is the right thing to do. In the winter, that means keeping your sidewalks and walkways clear and free from snow and ice.

Pipes. If you are moving out during your renovations, you'll want to ensure that your water pipes don't freeze. To prevent this, you can either have the water supply to your home turned off or have a professional run warm water through them to prevent freezing.

Curb appeal. Winter is the best time to do some updates to your home that will improve its curb appeal. Contact your realtor to discuss what changes they recommend.

Energy-saving renovations. One of the best changes you can make at any time of the year is to add some energy-saving features to your home. This can include adding solar power panels, installing insulation, and even changing the blinds or curtains in your space.

Take a vacation. Perhaps the best way to take on a winter renovation is to plan it and then head out of town. This will give your family some peace and allow the contractors the space they need to get the job done.
To learn more about home renovations, call Avonlea Renovations at 416-422-5376 or contact us here.
Leave a Comment
The comments are closed.