8 Kitchen Trends You'll See Everywhere in 2021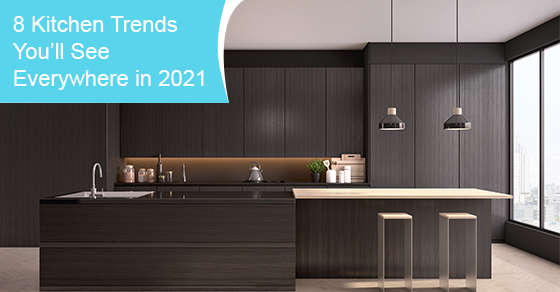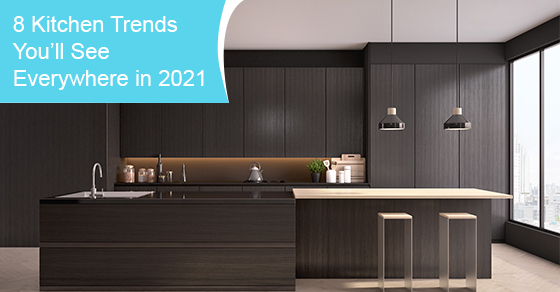 Is it time to remodel your kitchen? Are you wondering what the latest look is? Planning for a renovation can be an exciting time, but it can also be stressful. There are so many options to choose from that it's difficult to know what to add to your design plans. To help you decide, we've gathered some of the hottest trends that you'll see for kitchen renovations in 2021.
1. Marble
Busy-looking marble material will make a comeback in 2021. Invoking a feeling of luxury and style, adding marble in your kitchen will be one of the top trends you'll want to get on board with. Consider marble elements like countertops, islands, or backsplashes to your design.
2. Dark colours
Add a touch of dark hue to your kitchen or go all out and create a moody atmosphere with dark cabinets, counters, floors, and more. Dark colours will be more in demand for 2021. When used with the right materials, these colours can create a homey feeling for visitors. Mix light and dark hues to create a luxurious, sophisticated look. In particular, green and blue will be the trendiest colours for the year. Consider adding a forest green or dark blue shade for cabinets.
3. Minimalism
Compact, simple, and clutter-free kitchens are in. Many renovations will help create a calming atmosphere in the kitchen. Consider adding extra storage in drawers where items can be tucked away from view. Integrating appliances can also provide a minimalistic look that will be popular throughout the year.
4. Pantry
Fitting in with the more streamlined look of modern kitchens, pantries are a must-have. Pantries not only allow for extra food storage, but can also be tucked away out of sight. In addition, they can help you stay organized.
5. Broken plan living space
While open-space kitchens have been the norm for some time, one of the most interesting trends for 2021 will break up the open area to create more privacy. Using screens, house plants, furniture, or shelves, homeowners can create distinct spaces in the kitchen, which can be used for cooking, relaxing, entertaining, or more.
6. Hybrid islands
The idea of having a multi-use island won't be going away anytime soon. An island with some seating on one side that allows for a casual eating space is a great addition to any kitchen. It will also continue to be a trend for those looking to update their home.
7. Two-tone colours
Another big trend for 2021 kitchen updates will be combining two colours throughout the room for an aesthetically pleasing blended appearance. It will be more than just contrasting the colour of the cabinets with the paint on the wall; consider ways to add some different shades on various kitchen elements. This combined look can also include complementing textures like wood grains and laminate.
8. Decorative taps
Making a bold statement with gold or brass taps and sinks will also be big in 2021. Taps with unique handles or features can be an attractive way to brighten up the space.
If you are interested in learning more about kitchen renovators in Toronto and your renovation options, call Avonlea Renovations at 416-422-5276 or contact us here.
Leave a Comment
The comments are closed.