The Pros and Cons of Granite Countertops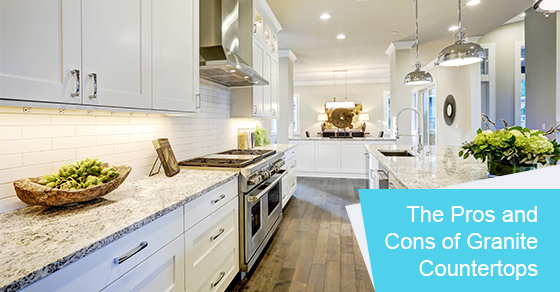 Kitchen renovations can be both exciting and daunting. There is so much to consider when remodelling one of the main rooms in your home. When it comes to picking the right material for your countertops, however, don't overlook granite. With its durability and natural design, granite might be the best addition to your space.
Pros of Granite Countertops
There are several good reasons to opt for granite for your countertops, including:
Aesthetics. If you are going for a beautiful look for your countertops, granite may be the best choice. The material has one of the nicest looks that can refresh your space. Moreover, because each slab is unique, you can be sure that you will have an appearance that no one else does.

Sustainability. Granite is one of those renewable resources. So, you can get a great look for your kitchen while being environmentally-friendly.

Heat resistance. Being able to withstand heat is an important element for a countertop, and granite delivers this aspect.

Scratch-resistant. The material is also difficult to scratch, which makes it a great addition to your kitchen.

Stain-resistant. Another benefit of using granite for your kitchen countertop is that, when properly sealed, it can resist stains.

Maintenance. Granite is one of the low-maintenance options for kitchen countertops. That means it should be several years before you'll need to have it repaired. In addition, because of their sturdiness, granite countertops can add value to your home.

Chemical resistant. Countertops made of granite will be very resistant to chemical damage. However, if acids or other chemicals are used too much, they can wear away the sealant. If that happens, you'll need to re-seal the countertop for maximum protection.
Cons of Granite Countertops
While there are a number of good reasons to put in granite countertops, there are some drawbacks that homeowners should be aware of. These include:
Repairs. Granite is a material that will need to be professionally repaired. While the material is very strong and durable, if it does get damaged, you should contact the professional who helped install it. They should be able to find a replacement piece that closely matches your countertop look.

Requires sealing. Unless it is sealed properly, granite can be porous. That means that it will absorb liquids easily, which can destroy the appearance of your countertop.

Price. Granite countertops can be a little on the high end price-wise, but that doesn't mean there aren't low-cost options that are just as beautiful.

Limited look. Because granite is a natural material, there is not a lot of range when it comes to colour or design. However, it is still one of the most beautiful materials that you can add to your kitchen.
To learn more about using granite for your kitchen countertops, contact Avonlea Renovations, skilled kitchen renovators in Toronto at 416-422-5376 or contact us here.
Leave a Comment
The comments are closed.