How to Create the Perfect Custom Bathroom Design for Your Home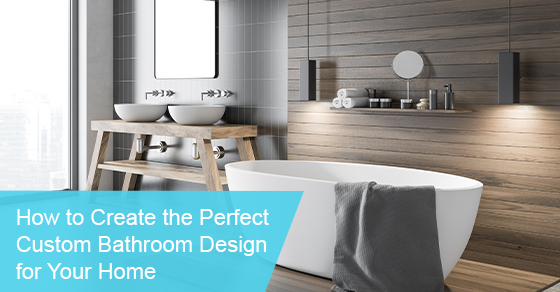 With so many options and decisions to make, renovating your bathroom can be overwhelming. However, getting that perfect custom bathroom design for your home doesn't have to be difficult. Here are some tips on creating the ideal look for you.
Have a Plan
This may seem like an obvious idea, but when it comes to getting the bathroom look you want, there are some limitations. You'll need to create a design that works with the plumbing you already have. This can be challenging if you've never been through a bathroom renovation before. Talk over your plans with a renovation professional who can help you create the best design for your space.
Character Cabinets
One of the more versatile elements in a bathroom is the cabinets. Whether you want to create a vintage look or a more modern appearance, the cabinets will have a big impact on the aesthetic of your bathroom. For the ultimate custom bathroom project, you can even have cabinets built to your specifications so you'll have the most unique look in your home.
Lighting
It is essential to give some thought to the type of lighting you want in your bathroom. Consider adding some ceiling lights and a chandelier or pendant lights to create the right atmosphere. When it comes to lighting around the mirror, you need enough to illuminate your face without causing shadows.
Colour Scheme
Colours have the ability to invoke emotion. For example, blue is a calming colour while red is more energized. Carefully consider the colour scheme you use in your bathroom and the emotions that it can create.
Bathtub
One of the most essential features of a bathroom is the tub. It makes sense to add a little flair to your bathtub element. Whether you want to use a stand-alone tub with claw feet or a platform tub with creative tiling surrounding it, this is where your personality can really stand out.
Airing the Bathroom
Full bathrooms will need an efficient way to eliminate moisture and mildew. Plan for a vent that can bring in air right from outside for a better drying process. Depending on the location of your bathroom, adding a window as a second way to air out the room is definitely a good idea.
Embroidered Towels
Creating the right look for your custom bathroom goes beyond the elements and features you put in. Add to the charm of the space by using embroidered towels or ones with a more decorative appearance than regular towels. This can create a sense of luxury to the room.
If you are interested in learning more about custom bathroom renovations, call Avonlea Renovations at 416-422-5276 or contact us here.
Leave a Comment
The comments are closed.