Renovating Your Bathroom? These Are the Best Shower Floor Materials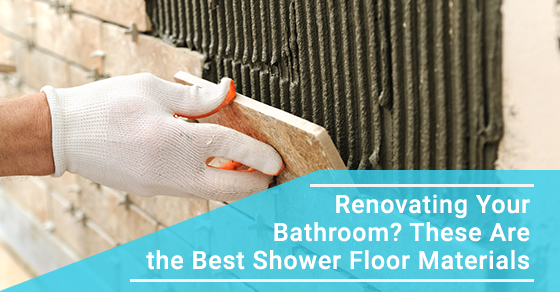 Sometimes, it's the smallest room in your home that makes the biggest difference during remodelling. As one of the leading bathroom renovators in Toronto, Avonlea Renovations understands what it takes to make your bathroom shine. For many homeowners, the best change you can make is changing your shower.
Here, we'll discuss the best shower floor materials you should consider for your big bathroom reno.
Make a Statement with Natural Stone or Stone Resin
Stone has been making a comeback as of late, and it's not hard to see why. With many of our favourite television show families and celebrity couples boasting homes filled with big, bold natural stone bathrooms, many Canadian homeowners are following suit in the search for bathing opulence.
Stones come in many colours, shapes, and finishes, making them the perfect tool to craft a custom creative bathroom theme.
For those who choose stone resin, there's a bit of a financial incentive, as it tends to run cheaper than natural stone. The mix of natural stone and resin is covered in an acrylic finish to produce the desired effect.
Natural stones like onyx, marble, and granite produce an effect like no other. Whether you go for tiny smooth pebbles or broad flat stones, your bathroom floor will be unique to you.
Go for Classic Elegance with Tile
There are two main types of tile used by bathroom renovators in Toronto: ceramic and porcelain. Although both are beautiful to look at, ceramic tends to be cheaper, while porcelain tends to be colder.
There are many ways to design a tile shower floor, including a creative mosaic, or a basic black and white checker. One thing to consider when choosing your bathroom tile design is how much time you want to spend maintaining it. Tile requires grout, and grout requires cleaning. The more intricate your tile design, the more grout you will use.
Ultra-Modern Wood Slats
It might be a surprise to hear, but wood is becoming a more popular choice for bathroom renovators in Toronto. The bespoke look of wood slats underfoot creates a modern yet calming theme to a shower.
Very reminiscent of ancient Japanese bathhouses and spa saunas, the wood slat shower floor allows water to drain down beneath the slats into a shower pan. The wood must be specially treated and layered with a protective coating to retain its elegant look and reject mildew.
Choose the Best Bathroom Renovators in Toronto
Whatever your shower floor material choice, choosing the right bathroom renovators to install it is a crucial factor in the success of your new remodelling project. At Avonlea Renovations, we specialize in older Toronto homes and understand the delicate plumbing and architecture involved in these builds.
If you're looking for a renovator with a light touch and an eye for detail, we can help. Our team of experienced renovators are always looking for a new challenge and love working with creative clients.
Call Avonlea Renovations at 1-416-907-4764 for a consultation today.
Leave a Comment
The comments are closed.