Choosing the Right Bathroom Tiles for your Victorian Home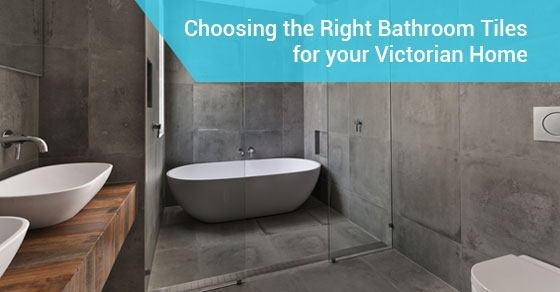 There are many factors to consider when updating your bathroom. From choosing the style to factoring in functionality, the process can be a little overwhelming. Getting the right tiles for a small bathroom, whether for walls or floors, will have a big impact on making your small space feel bigger and brighter. 
There are thousands of different styles, colours and designs on the market, and it can be hard to choose the best bathroom tiles that suit and enhance your space. Here are a few tips on how to choose the right bathroom tiles for your renovation. 
Whether it's a family bathroom that gets used frequently or your own en-suite, it's important to choose the right style and fixtures so that everyone is happy. Tiles can really help transform a space, while still being functional. 
Tile Size
When choosing bathroom tiles, it is important to consider colour, size, pattern and spacing. You want to choose tiles that are good quality and sizes that will suit your bathroom. Smaller tiles, such as mosaic, will give you lots of grout lines, which gives the bathroom walls a grid-like appearance that can make the bathroom feel smaller. Large tiles will give fewer grout lines and make the room feel less cluttered and visually expand the room. 
Layout
It is also important to consider the layout of your tiles once you have chosen them. 
If you have a bath adjoining one or more walls, a tiled area surrounding the wall will definitely make the bathtub the star of the bathroom. Simple white or beige tiles can help make other aspects of your bathroom stand out. 
1. Classic brick 
Each row of tiles is offset by the width of half a tile. This layout makes a room feel wider and it is a popular choice for kitchens and bathrooms.
2. Vertical brick 
A vertical brick layout is a vertical rendition of the classic brick layout and it is used to emphasize the height of a room. It can make a dramatic difference in small bathrooms.
3. Herringbone 
The herringbone layout features tiles laid out at right angles in a zig-zag fashion. This layout can give any room a more sophisticated look using even the most affordable and basic tiles.
Mosaic layouts usually feature small tiles that are a variety of different sizes and shapes. These tiles come in pre-made sheets for easier installation. Mosaics are commonly used for shower floors or as a highlight on an accent wall.
5. The classic 
You can go the classic route with plain white metro tiles. They are inexpensive and easy to open up the space with their bright white colouring.
6. Checkered
Black and white checkered tiles are simple and unique. You can lay them in a diagonal pattern to create some dimension. 
7. Floral floors
Floral tiles can create a modern industrial vibe. With the intricate patterns and simple walls, it's the best of both worlds. 
For more information about planning for your kitchen and bathroom renovation, call Avonlea at (416)-907-4764 or contact us here.
Leave a Comment
The comments are closed.