Choosing the Best Tiles for Your Kitchen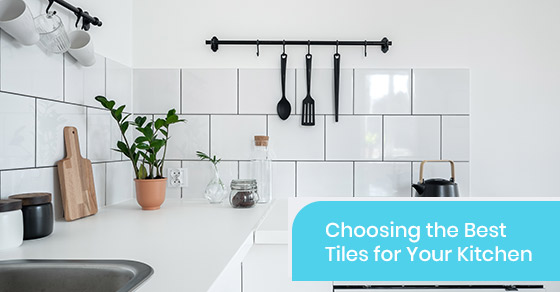 Your kitchen tiles may seem like a small element of your design, but they can make a big difference in creating the right atmosphere in your home.
The kitchen has always been a central part of your space, even being dubbed the heart of the home. Let's face it; we all spend a lot of time in our kitchens. Cooking, eating, laughing, entertaining. That's why we want to have a perfect look for this space.
Kitchen renovations are among the top-rated on Investopedia because they can earn up to 80 percent of the cost back when you sell your home.
Types of Kitchen Tile
There are 3 types of tiles available for your kitchen:
1. Porcelain
A tough and durable type of material, porcelain won't show most scratches or wear and tear. This makes it an ideal choice for such a high-traffic area like your kitchen.
2. Ceramic
These tiles are much softer than porcelain. Also, the glazing that ceramic tiles have helps them reduce damage from spills and splashes, which are bound to happen in your kitchen.
3. Stone
Depending on the look you have for your kitchen, stone might be the perfect touch. These tiles include limestone and marble, which can add to the beauty of your home.
Things to Consider When Choosing Kitchen Tiles
One of the highest traffic areas in your home, your kitchen will need to have strong and sturdy tiling. Here are some things to consider that should help you decide on the best kitchen tiles for your home.
1. Durability
You want your kitchen tiles to be strong because they will need to withstand all the traffic in your home. If you choose cheap tiles, you may be disappointed. To determine the durability of the tile, look at its PEI rating. A rating of 3 or lower is for low-to-moderate traffic areas. A rating of 4 is good for high traffic residential spaces, while a 5 rating is usually designed for industrial spaces.
2. Size
Consider whether you'd like to have smaller tiles or larger ones for your kitchen. It boils down to what will look best in your space. Do some measurements and see what your options are. Most homeowners will use a 12" or 18" sized tile in their kitchen flooring.
3. Texture
You may want to pick a tile that has some texture to it. This can help prevent slips when the floor is wet. A smoother tile can be too slippery, and someone may get hurt.
No matter what style of kitchen you are looking to create, adding in the right kitchen tile can make a big difference.
To learn more about choosing the best tiles for your kitchen, call Avonlea Renovations at 416-422-5376 or contact us here.
Leave a Comment
The comments are closed.