How to Choose the Best Kitchen Flooring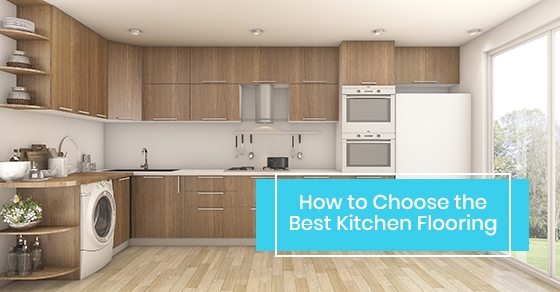 Are you revamping your kitchen flooring? Before you buy, take a look at our guide – we can help you choose the best kitchen flooring for your home, from choosing the right material to fitting it on your floors.
Tiled Kitchen Floors
Tiles are one of the best options for a kitchen floor. This is because they're extremely durable and easy to keep clean. As well, they look quite nice in a kitchen.
What Tiles to Pick
Tiles come in a range of natural and manufactured materials that vary in finishes and textures. If you want real stone, opt for slate or granite. For manufactured, porcelain or ceramic are well-tested options for kitchens. Real stone has a lot of variety and character, while manufactured materials are generally more affordable.
You'll want to avoid porous tiles in your kitchen since it is a room where moisture levels tend to be high. If you choose porous tiles, such as terracotta or travertine, ensure it's well sealed and resealed regularly. You may also want to avoid limestone, which tends to scratch easily.
Tiled Floor Design Tips
Use larger-scale or pale-coloured and high-shine tiles to make the room feel bigger than it is. You can also lay tiles diagonally rather than square to the wall to enhance the effect.
Tiles with a pitted surface are much more difficult to keep clean than those with a smooth finish. To keep your tiles clean, use warm water on natural stone and a mild cleaner on ceramic and porcelain.
It is possible for DIYers to lay their own tiles. But if your tiles are heavy and expensive, or a tricky material to cut, call a professional.
Wooden Kitchen Floors
Wood flooring brings texture and a warm cozy feeling to a kitchen, especially if the home is older or if the cabinetry is sleek and modern. The one downfall of having wood flooring in the kitchen is that it will be exposed to a lot of moisture, and you will need to can be high maintenance. If you're opting for wood, make sure you choose carefully.
What Woods to Pick
Choose engineered wood flooring for your kitchen. With a durable top layer, it is much more resistant to warping and movement than solid wood.
Wooden Floor Design Tips
Consider parquet flooring laid in a herringbone pattern. Lighter wood colours will create a more spacious feel in your kitchen and hide dirt better than a dark finish; however, dark wood flooring will look stunning with light cabinetry.
Wider boards tend to look more contemporary than narrower ones.
Professional fitting is recommended for a perfect finish, but it is possible to do as a DIY project.
Laminate Kitchen Floors
Laminate is a favourite for many homeowners to install in their kitchen. It's cost-effective, as well as stain and scratch-resistant.
What Laminate to Pick
Choose higher-end laminate, which offers a wood or tile effect, complete with grain finishes, embossing, bevelled edges and stone looks. But avoid laminate on the cheapest end of the spectrum as it tends to stain, warp, and peel. Remember, with laminate flooring; you get what you pay for.
Laminate Design Tips
Go for a low-sheen finish and look for details, like bevelled edges, to get a truly convincing lookalike.
Protect your laminate flooring from damage with an underlay.
Most laminate options come with an easy-to-fit locking system, but if you are looking for something seamless, call a professional.
For more information to help you choose the best kitchen floor, call Avonlea Renovations at 416-422-5276 or contact us here.
Leave a Comment
The comments are closed.