5 Tips for Decluttering and Organizing Before a Kitchen Reno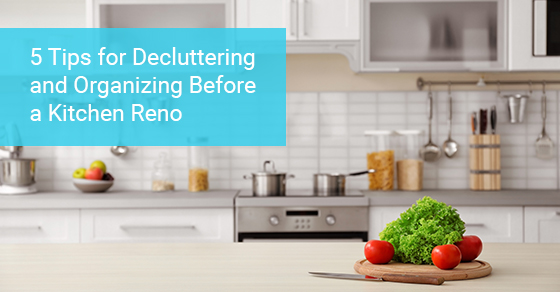 Your kitchen is central to your family's activities and routines, which is why you'll need to have a plan to declutter and clear the space before you start renovating. While it may seem like a big job, having everything organized will be vital to reducing the chaos and upheaval your family may experience throughout your kitchen reno project.
Here are some easy ways to get you organized and ready for the big day.
5 Tips for Decluttering
Getting the mess out of the way so you can create your dream kitchen space can seem overwhelming, but it doesn't have to be. Here are some great ways to declutter and organize yourself prior to your renovation project.
Get your supplies.

You'll need boxes, packing materials, plastic storage bags, labels, markers, and tape. Once you have gathered everything you need, create your packing system. This could mean labelling the items you'll need every day with a yellow tag, while items you don't need to unpack until the renovation is over can get an orange tag. Those items that you use every day should be stored out of the way, so they don't get excess dust on them during the renovation. Anything that you won't need in the short-term, such as collectables or special bakeware, should be put away in the basement or garage.

Create a mini-kitchen space elsewhere.

Let's face it; you'll need to have some type of space to prepare foods and meals. While your regular kitchen is under construction, find another space in your home that can become a mini-kitchen for the time being.

Make a donation pile.

As you start to move things out of your kitchen, consider what items you may want to give away or donate. If you discover unwanted stuff in your cupboards and shelves, this is the ideal time to pass it on.

Clear the walls.

It is not just the dishes that you should remove during the renovation; any decorative items like paintings or pictures should be taken down and packed away. Remove curtains or blinds, and be sure to put the hardware into a plastic bag or container, so it doesn't get lost.

Cover furniture and electronics.

If you have an open kitchen, there is a risk that the dust and mess can travel to nearby rooms. So, if you have furniture or electronics next door to your kitchen, cover them up for protection.
The best way to prepare for your upcoming kitchen renovation is to get organized and clear the room out early. This will make the project run smoothly for you and your contractors.
To learn more about kitchen renovations in Toronto, call Avonlea Renovations at 416-422-5376 or contact us here.
Leave a Comment
The comments are closed.