4 Compromises to Consider When Renovating Your Kitchen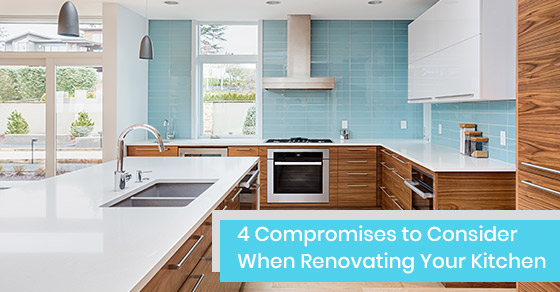 At one time or another, everyone has dreamt of having an unlimited budget for their kitchen renovation. However, that is not a reality for most people. Unfortunately, we have to make compromises on our grand plans to build a cooking palace. But how do you decide what to splurge and save on? Below are 4 compromises to consider when renovating your kitchen:
Daily Items vs. Special Event Items

An extra-large granite counter with seating for 10 people may be tempting if you have major party aspirations. However, you need to consider whether it is worth the extra cost. If you are a 4-person family, this may be overkill.

Here are a few questions to consider when deciding if something is practical for everyday use vs. special events:

How many people do you want to accommodate?
How many people live in your house now? What about in 10 years?
Is this your forever home?
How often do you entertain?

When in doubt, act with your maximum capacity needs in mind!

Cost vs. Value

Kitchen renovations are definitely not cheap. Everything from sinks to appliances, cabinets, and back-splashes come at a variety of price points that add up quickly. Many people will have to cut corners once they realize they can't afford everything they want. But how do you decide between cost and value?

Here are a few questions to ask yourself:

Will the item improve your everyday life?
Can you afford the item?
Will the item make your house cozier?
Does the item increase the resale value?

If you are on a tight budget, pick one thing you really want and spend the money, but plan to save in other areas.

Function vs. Aesthetic

Who wouldn't want their kitchen remodelling to be beautiful and functional? Luckily, you can achieve both on a budget!

However, you can't always have everything you want. A great way to navigate function and aesthetic is to make a chart of what matters most to you. There are also a few other things to consider:

What do you need functionally?
What fits into your budget and improves your life?

Sometimes, it is best to cut back on aesthetics to create a room within your budget that caters to what works functionally. But that doesn't mean you can't make it beautiful!

Speed vs. Patience

Renovation projects take time. However, any small delay can be difficult to swallow, especially when involving your kitchen. Nobody likes living and dealing with a mess (and constant eating out). But don't become tempted to say "yes" to anything just to get it done quickly.
Make sure every decision you make is what is best for the long term. If you can't find a product that you want right away, don't panic; enjoy the process of creating your perfect space. After all, a kitchen renovation is a major financial investment that you are going to have to live with for a long time.
When in doubt, consider how long you plan to live in your home and take the time to find the best solution, not the quickest solution.
Avonlea Kitchen and Bathroom Concepts
At Avonlea Kitchen and Bathroom Concepts, our renovation services include all of the components necessary to create a stunning kitchen. As older and heritage home specialists, we have the skill and experience in kitchen renovations and redesign to capture the image of the new kitchen that you have in mind and make your vision a reality. Talk to one of our specialists today at 416-907-4764 or contact us here at our website.
Leave a Comment
The comments are closed.