Tips for Choosing a Bathroom Backsplash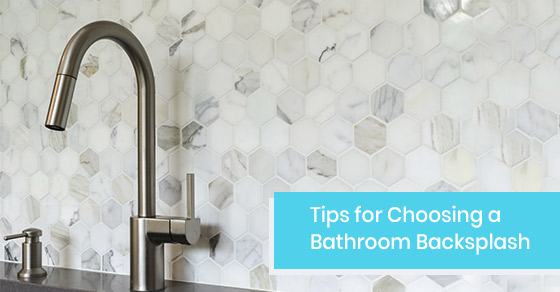 A bathroom backsplash allows you to be creative and express yourself. With the variety of materials and options for your backsplash, you will be able to create the perfect look for your bathroom. There are a few things that you should consider before you begin your bathroom renovation project, including the material and style you want.
Backsplash Materials
There are a variety of materials that you can work with to create the look you want in a bathroom backsplash. A few of the most popular include:
Miniature glass mosaic tiles
Ceramic tiles
Granite
Stainless steel
Silestone
Corian
Travertine
Most backsplashes will come in tile format with various designs; however, some homeowners prefer a sheet glass backsplash to protect their walls. This material is often best used for kitchen backsplashes, although there is no reason you can't use it for your bathroom as well.
Bathroom Backsplash Styles
Although a backsplash has a practical use, it doesn't mean it can't help your room stand out. Depending on the material you want to use, there are several styles that you can use to create your bathroom look, including:
Patterned tiles

One of the simplest design options is to use patterned tiles. Using patterns along your walls can create a classic look that matches the other elements in your bathroom.

Single-coloured tiles

Using larger tiles in a single colour can give your bathroom a charming, unified look that is pleasing to the eye and takes little time to create.

Geometric tiles

Some tiles come with a geometric print on them, giving you a unique look to your backsplash. If you have some angles in your space, a geometric tile can create a unique and inviting look.

Single sheet

A popular option for bathroom backsplashes is to use the same material as the counter. Using a single sheet for your backsplash can give your bathroom a polished look.

Mirror


For some bathrooms, using a mirror as a backsplash can make the room appear bigger and brighter. This works by reflecting the light and space in the room. As well, it's easy to wipe up and keep clean.

Mini-tiles

For creative flair, you can opt to use small tiles as your backsplash. This can bring unity to your bathroom look if the tiles are the same colour as other elements in the room.

Single stone

A small border of stone that matches the material you used for your counter can give your bathroom a minimalist look.

Full-wall tile

To create a unique look while adding a backsplash to your bathroom, you may want to put tiles on the whole wall rather than just a little space behind the sink. This look adds more texture to the wall.

Stone-wall

Similar to the full wall tile, you could have a piece of stone, such as marble, cut to fit a larger portion of your wall for a seamless backsplash look.
No matter what look you want to create for your bathroom, adding a backsplash can be a simple way to bring new life to the room.
If you are interested in learning more about bathroom renovators in Toronto and your renovation options, call Avonlea Renovations at 416-422-5276 or contact us here.
Leave a Comment
The comments are closed.