Top 10 Tips for a Bathroom Renovation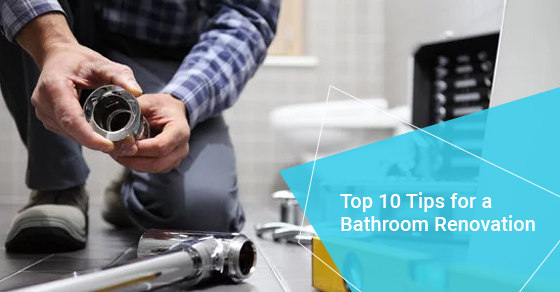 Renovating a bathroom is a big project, especially when you live in an older Toronto home, where you have to contend with more issues than homeowners in newer houses.
Below are 10 things to keep in mind when embarking on a bathroom renovation to make sure that your project is successful, efficient and cost-effective.
Make a plan

Before embarking on a renovation, consult with any family members who will be using the room regularly. Getting input from the people who will use the room most often will inform everything from the layout of the room to the type of fixtures and faucets you choose to install.

Plan ahead

When planning the room, don't just think about your current needs—try to anticipate your future needs as well. Will your family be growing? Are you likely to need or want more space in the future? A second sink? A bathtub for a baby? Try to build your family's future needs into your current plans.

Keep the current floor plan

One of the best ways to keep the cost of a renovation down is to keep the locations of the new plumbing fixtures close to the current fixtures. If you can leave your bathroom's current layout relatively untouched, you can save a lot of money while still upgrading the room's aesthetics and efficiency.

Don't ignore lighting design

Lighting is one aspect of a bathroom renovation that homeowners don't always think about it, but it can make a significant impact on the room. Whether you want overhead lighting, wall sconces beside the mirror or a combination of the two, lighting — and lighting fixtures — are an essential and often overlooked consideration.

Ventilation is vital

While bathroom renovations are often about form, the function is still important, and few features in a bathroom are more crucial than ventilation. Proper ventilation helps avoid the build-up of mould and mildew, which is especially important when renovating bathrooms in older Toronto homes and helps ensure that the improvements you make will last for many years.

Make smart use of space

Bathrooms tend to be small, especially in older houses, so think carefully about how you can use space smartly. Elevating cabinets off the floor, installing towel hooks on the back of the door, opting for a pedestal sink instead of a cabinet and installing storage above the toilet are all options that can help preserve floor space in smaller rooms.

Choose long-lasting flooring

Flooring is extremely important in bathrooms because they'll be exposed to water and moisture every day. Make sure to choose a type of flooring that not only looks good but is also highly water-resistant, so it will last for years to come.

Hire a bathroom specialist

Renovating a bathroom requires contractors who understand multiple trades, including plumbing, electrical, carpentry and more. The best way to ensure that your renovation is done well is to work with a company that specializes in bathroom renovations. This is especially important if you live in an older home that may have knob and tube wiring, galvanized and lead pipes, or other outdated features that need to be addressed.

Consider the countertop

Your bathroom's countertop can be a statement piece that anchors the rest of the room. Replacing a wood or laminate counter with a new marble countertop will elevate the overall design, and will last a lot longer, too.

Opt for energy-efficiency

When people embark on renovations, they're often excited about the aesthetic upgrades they can make, but renovating bathrooms in older homes also offer an opportunity to improve efficiency by replacing older plumbing and electrical fixtures with newer versions that use less energy and reduce your monthly bills.
Bathroom renovations can add a lot of value to your home while making it more aesthetically pleasing, and energy-efficient.
To learn more about upgrading your bathroom, call Avonlea Renovations at (416)-907-4764 or contact us here.
Leave a Comment
The comments are closed.