Modern Bathroom Design Trends For 2018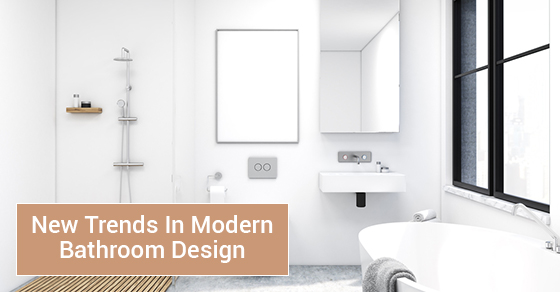 Practicality and neutrality are the buzzwords for modern bathroom design in 2018. Design trends include showers that are open with light-coloured tiling, to accentuate modern fittings and woodwork. These days bathrooms are multi-purpose areas, where family members not only take care of their hygiene, but go to relax, so the spa feeling is important. Many homeowners are opting to renovate and increase the size of their bathrooms if they're able to. And to make the bathroom appear larger, the use of larger tiles is on the rise.
Oodles of Storage
Having lots of storage space in a bathroom is a necessity, especially when more than one family member uses the space. Hidden storage is something that is catching on, and it also makes a space appear larger. Wall space can be used for storage as well. Keep any cabinets sleek, with stainless steel or similar hardware, for a crisp, modern ambience. Don't clutter up the space with too many items; keep decorations at a minimum. Try a floating vanity for your sink to increase the modern appeal.
The Ceramic Craze
Ceramic tiling has always been a go-to material for bathroom floors and showers. There are many new designs from which you can choose; the geometric ones are now gaining in popularity. Tone on tone adds depth to smaller spaces, or go for the gusto with multiple colours. You can get ceramic tiles that imitate other materials like marble or wood. Natural materials including marble and quartz are also hot for 2018.
Opening up the Shower Space
Open showers have been popular in Europe for years, and they are fiery hot in North American modern bathroom design right now, and moving into 2018. Showers are also becoming more multi-functional, with additions of benches and steam systems allowing you to experience the health benefits of a steam room right in your shower. Crevices can be incorporated into the shower space design to hold items like shampoo, soap and shower gel. Again, the minimalist look is extremely hot. Consider a shower with glass walls which are easy to clean and go with any decor.
The Bathtub Gets a New Lease on Life
Bathtubs are making a fierce comeback in 2018. Life gets stressful, and at the end of the day, you might just want to relax in a nice, hot, soaker tub. Freestanding tubs are all the rage, as are island baths, if space allows. You can really use your creativity here since tubs now come in all shapes, sizes and colours.
Leave a Comment
The comments are closed.