Tips For Renovating A Kitchen In A Rental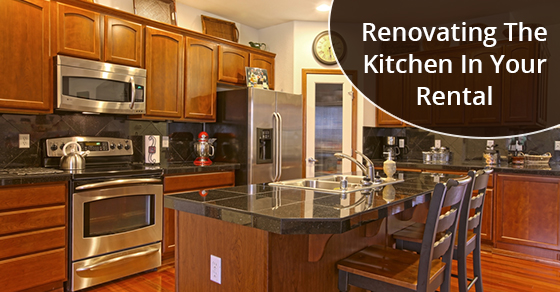 Not owning the place in which you're living doesn't mean you can't do certain things to spruce up the space, and that includes the kitchen. Kitchens in rental units are likely to be outdated and dark, but there are ways to change that without breaking your bank account. Here are a few tips for a kitchen renovation to make the kitchen in your rental more in line with your own taste and reflective of your personality.
Open It Up
You won't want to spend hoards of money on a place that isn't yours. Simply by taking the cupboard doors off the cabinets, you can create an open feeling. Doing this will showcase your dishes and glasses and give your kitchen a pop of colour. If you move, the doors can be easily attached again.
Change Up the Hardware
Changing the hardware on cabinetry is a small thing with a large impact. Pulls and knobs come in all shapes, colours, sizes and materials. They also come in all prices ranges, so you can stay within your budget.
A Brilliant Backsplash
If you can, change the backsplash. With just a little paint you can brighten up the area, or cover up outdated tiles with a vinyl decal that can be removed should you move out of the place.
An Island Addition
Almost anything can be used as an island in a kitchen. The more imaginative, the better. A smaller butcher block might do. Anything on wheels might also be a good idea. It could be used in other areas, a great idea for a bar that could do double as a prep area. Wheels can also be added to most freestanding pieces of furniture.
Shelves for Extra Storage
Things like pegboards and floating shelves are inexpensive, but look great in a kitchen. These things will keep your space organized and clear of clutter, and will also free up some cabinet space for storage. All these things are removable should you decide to move.
A Fitter Floor
Cork square, carpet tiles, and area rugs are great ways to cover up old flooring. Again, they can be easily removed when needed, and they will keep you on track with your kitchen renovation budget.
Wall Art
These days, removable wall art is a great choice for rental spaces. Think about not only wall paper, but decals, window film and tile tattoos. These things can cover up unsightly areas and aren't permanent.
Updated Faucet
If your rental has an old, leaky kitchen faucet, replace it with one that you love. They come in a wide variety of designs and can be found within a wide range of prices. They're relatively easy to install without having to call a plumber.
Leave a Comment
The comments are closed.