The Must Haves For Achieving The Traditional Kitchen Look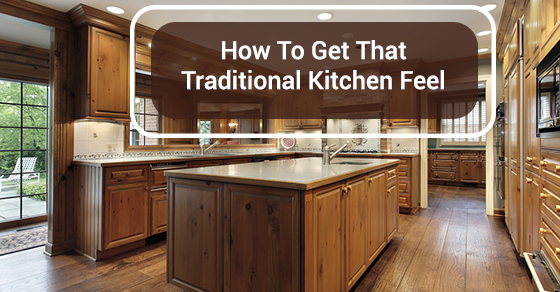 Traditional is making a big comeback in the world of interior decorating and design. People long for the days when things looked more elegant, warm and classy. The sharp edges and lines of modernity are certainly not for everyone, and nowhere is this becoming more apparent than the kitchen. The traditional kitchen look brings back warm memories for many people, and can make the act of preparing and eating food that much more enjoyable. If you are attempting to create that traditional kitchen look, but don't know where to start, below are some tips to get you started.
Soft and Muted
The traditional kitchen must start with the colour scheme. There is a difference, however, between a traditional kitchen and a classic kitchen. The classic blues and golds of old world design are not traditional colour. Traditional colours are soft and muted creams, whites, taupes, light greys and greens.
Bring the Outdoors Indoors
One of the biggest draws of the traditional kitchen is that it brings the outdoors indoors. Having your kitchen close to nature, even including signs of nature inside (flowers, fruits, leaves, etc.) with things like patterned wallpaper makes your kitchen feel like a much more natural space. That is what the traditional kitchen attempts to achieve. A natural space where your food and nature are as close to each other as possible. You want to create an atmosphere that harkens back to a simpler time, when what we ate travelled a much shorter distance from the farm to our plates.
Bay Windows
Believe it or not, your windows can actually play quite a big role in achieving that traditional kitchen look. You want to create warmth and a homey feeling, which big, artificial lighting structures simply can't do. A bay window that allows the sun and moonlight in is the way that traditional kitchens utilize light, which is much more natural and pleasant. Are you starting to notice a theme here with the "natural" elements?
Wood and Stone
In keeping with the "natural" feel of the traditional kitchen, many of the good ones also incorporate stone and wood elements into the mix. Stone backsplashes and dark wood floors and countertops are great natural additions to the kitchen.
Achieving that traditional kitchen look is quite easy because the theme is really just "natural and warm." Keep to this theme, and incorporate some or all of the above elements, and you should be able to get the traditional kitchen look you've always dreamed of.
Leave a Comment
The comments are closed.