How to Choose the Right Kitchen Sink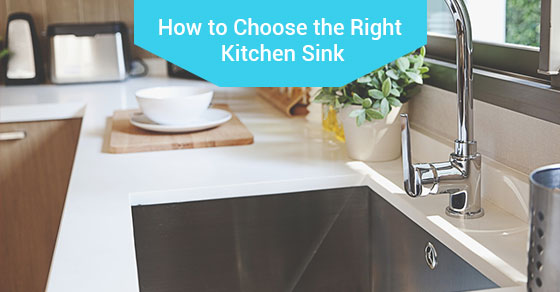 There are endless options when it comes to choosing a new sink and faucet. The first thing you should prioritize is the functionality. You want to choose a sink and faucet that will work well and withstand years of daily use. Although design comes second, it is still a very important aspect when homeowners are deciding on a new kitchen sink. Here are some things to consider when choosing a new kitchen sink. 
Sink Options
Kitchen sinks are typically made from stainless steel, enamel-coated cast iron, or composites. Stainless steel is often the best choice because of its under-mount capability. They can also take a lot of abuse. Some stainless steel sinks can be noisy but this can be addressed by choosing a design featuring sound absorption technology. 
Enamel-coated cast iron sinks are visually appealing but the enamel can scratch and wear over time, which might not be the best option for those who are hard on their sinks. 
Solid surface sinks that are an integral part of a countertop are the best option for those who like the ease of cleanup. They create a much smoother clean up area to deal with, however, the material is prone to chipping. 
Composite sinks are a newer style of sink that come at a lower price point and in various colours. This type of sink might be appealing to homeowners on a budget but polyester and acrylic sinks are not as durable as other sink options, which is important to keep in mind if you are looking for your sink to last a long time.
Number of Sinks
Traditionally, most kitchens have a double-bowl sink. Depending on what you want, one large oversized sink bowl might be better. Large pots, pans, and baking trays can easily fit in single bowls without water spilling out. You could also opt for one large bowl and a small bowl combination. Just ask your contractor for what the best option would be for you. 
Faucets
There are endless options when it comes to choosing a faucet. Most faucets use cartridge, ball or ceramic disc valves. A faucet with a ceramic disk valve and solid brass base materials will be the most durable. Many attractive faucets have two handles, but single lever faucets are also an option. 
You should also consider convenient extras like a garbage disposal or a hot water dispenser. For low-use areas, brass finishes work well, but for a high-use area like the kitchen, chrome, polished nickel, brushed nickel or pewter would be best. 
Before making any big decisions, consult your renovator to see what your best options are. You can also make a trip to the local kitchen showroom to get a feel of what faucet and sink you want. 
For more information about planning for your kitchen renovation, call Avonlea at (416)-907-4764 or contact us here.
Leave a Comment
The comments are closed.