What to Know Before Buying a Heritage Home in Toronto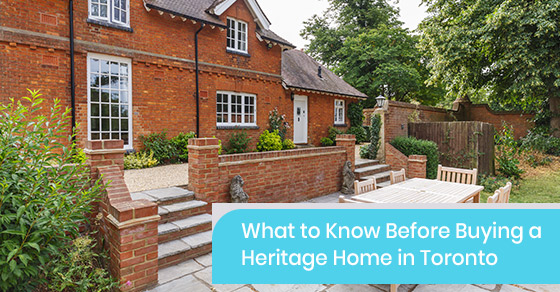 Who wouldn't want to own a heritage home, with all that character and history it has to offer?
A heritage home is a property that the government or heritage societies consider worth preserving due to historical and cultural significance. This can either be due to unique landscaping or architecture.
However, there are a few things you should know before buying a heritage home. Continue reading to find out if a heritage home is a good choice for you!
Why Buy a Heritage Home
Heritage homes are beloved and coveted for many reasons; however, purchasing a heritage home comes with certain responsibilities and restrictions. I.e. there are many guidelines around "modernization."
Now, you may be thinking, "Why would anyone buy a home with so many rules?" We don't blame you! Modern homes are beautiful, but the classic features of heritage homes are what make them valuable.
Take a look at the exterior facade. If you agree that the charm and character of this home is something you are willing to preserve, buying a heritage home is probably right for you. Heritage homes are also typically located in old neighbourhoods where you also benefit from mature tree-lined streets, local history, and charming storefronts.
Cost
Heritage homes are expensive. Think of it as buying a genuine piece of history. If you are considering buying a heritage home — especially in Toronto — be prepared to pay a lot to own one of these homes. You need to consider whether the pros outweigh the cons.
Built to Last
The saying is very true: "They don't make them like they used to." Another reason to buy a heritage home is that they are very well built. You don't have to worry about the finishes in your home wearing out based on poor quality or cheap materials. Built decades ago, these homes were built with construction methods that are unable to hold up today. Some of these differences include plaster vs. drywall. The flip side is that these often require expert repair.
Renovations
Let's go back to the renovation "problem" for a moment, as this is probably your biggest barrier to buying a heritage home.
The rules and regulations for renovations mostly refer to the exterior of the home. Designated properties have legal protection in that changes to the heritage character-defining elements may not be changed without a heritage permit. When you view a heritage home, make a list of things you would change if you decided to buy it and check beforehand if these changes are possible and what you would have to compromise on.
Safety
While on the topic of renovations, you need to also make sure that your potential new home was renovated at some point to remove harmful and dangerous substances, like asbestos and lead paint. Exposure to either substance can cause permanent damage to health. Check with your city council if asbestos or lead paint has been used in your property, and if so, how can you go about renovating it without putting anyone's health at risk.
Think Twice Before Buying a Heritage Home
Buying a heritage home is a double-edged sword. Educate yourself, seriously consider your options, ask questions, and talk to a professional.
If you would like to know more about buying a heritage home in Toronto, call Avonlea Renovations at 416-422-5276 or contact us here.
Leave a Comment
The comments are closed.