Shelving Ideas For Your Dry Bar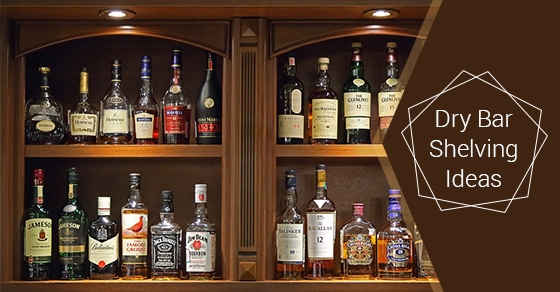 The difference between a wet and dry bar is in the plumbing. A wet bar has a sink and drain, while a dry bar doesn't. A dry bar can actually be made from anything, and basically it's a piece of furniture that holds all things bar related, like bar tools, glasses and bottles. It can be either stationary or portable, so it can be located in any area of your home. Installing a dry bar gives you the chance to really be creative. Think outside of the wine box here and make your bar area shine using your imagination and creativity.
Many Options

Your choices for cabinets and shelving are limitless. If you decide to enlist the help of a company that builds custom cabinets and shelves, you can get their input on how best to use the space you have earmarked for your dry bar. For instance, they can create shelving to accommodate specialty glasses or larger bottles. A dry bar can also be used as a china cabinet or sideboard, or be located in your kitchen, to provide extra counter space. It could very well be multifunctional.

Built-in Shelves

Even if you use a sideboard, a whimsical table, or a built in cabinet for your dry bar, you still need shelves above it. Having a built-in unit will keep glasses, accessories and bottles out of the way. Get the cabinet built with clear glass doors so you will be able to show off some of the collection you have, or will amass. It might be a good idea to have adjustable shelves.

Floating Shelves

If the dry bar has a modern bent, floating shelving above would really highlight the space. Floating shelves are sleek and simple—the perfect Zen element for a minimalist dry bar area.

All-in-One Unit

This type of dry bar resembles a china cabinet with a twist. Have a wine rack built right into the bottom or on the top. Doors with clear glass will show off your favourite vintages. Add a marble countertop to give the bar an upscale, chic feeling.

Make It Cool

An under-the-counter wine/beverage cooler can be the focus of your dry bar. Have cubbies built above to house the red wine vintages. By painting the bar a darker colour, you'll distinguish it from the rest of the space, giving it a very rich, sophisticated look.
Leave a Comment
The comments are closed.