How to Make a Small Living Space Bigger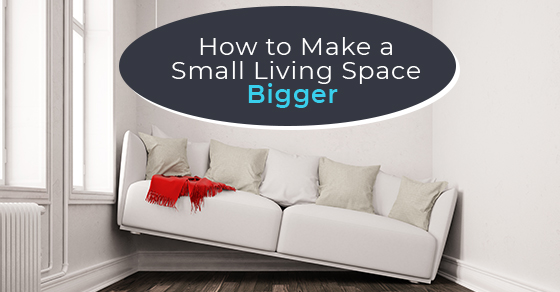 With more and more people opting to live in smaller homes, decorating to optimize space has become more important than ever. Even if you live in a larger home, you might have a smaller room or area of the house that needs some design ideas. Here are some decorating tips to optimize space and upsize the appearance of small rooms.
Think Multi-Purpose
Living with less is the best way to make the most out of a small space. The easiest way to do this is to start looking for furniture that can work as a multi-purpose piece in your home. For example, a dining table that multitasks as a desk, a couch that pulls out into a bed, or a bench that adds much-needed storage space. You can also choose larger pieces that have more than one use. A large china cabinet can take the job of a pantry, dish storage, and even storage for linens and towels. It looks good, is larger, but reduces the number of pieces you need because it fulfills a number of purposes.
Take Advantage of Every Inch
Look for areas in your home that can offer double duty. An office nook can be made under a staircase or even in a small closet. A tiny kitchen can be made bigger by using the limited wall space for hooks to hang items on, making up for a lack of cabinets. Older homes can sometimes have awkwardly laid out kitchens where extra counter space can be added, or interesting spaces such as stair landings where you can put a fold-down desk.
Avoid Clutter
Clutter is the number one enemy of small spaces. Get creative with storage using baskets placed on top of the kitchen cabinets or on counters. Make sure you are also using baskets to shelves. Avoid over purchasing small appliances you don't have a place to store, as these tend to get messy fast. Small bathrooms are notorious for clutter. One of the least used areas in a bathroom is the wall above the toilet. Installing shelves on this wall space is perfect for items such as towels, extra toilet paper and personal care products sorted in baskets.
Miniaturized Style
If you are in love with certain pieces of furniture that your space can't handle, look for them in smaller versions. For example, choose a slightly smaller version of the grand kitchen table that you like, or design a stand-up shower inspired by that bathtub you fell in love with.
To learn more about optimizing smaller spaces services, call Avonlea Renovations at (416) 907-4764 or contact us here.
Leave a Comment
The comments are closed.