Unique Ways to Decorate Your Bathroom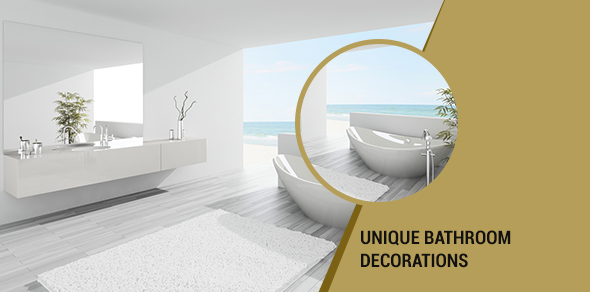 Your bathroom is the one true sanctuary in your home. If you're ever wanted to redecorate it but don't have any ideas as to how, then we have some unique and creative ideas to help you out!
You can use paint to add to colors, customize your shower or tub, and even redo your floor using some inexpensive materials and with minimal time investment. The result will be a beautiful new bathroom that you upgrade to your own unique tastes.
Adding Color to Your Bathroom
You've probably already painted your bathroom. But chances are you kept it pretty simple. Painting is always risky because you never know exactly how it will turn out. Well, that's actually half the fun of painting your bathroom!
The other half is the unlimited ways that you can apply paint to decorate and upgrade your space. Chalkboard paint, for example, is one way that many people never consider for bathrooms. But it will allow you to create a space that can be changed daily. Write inspiring quotes, or just let your creative juices flow in the moment.
Also, painting fixtures in your bathroom will add subtle touches that can brighten up the entire room. If you have a bathtub, consider using solid bright colors to customize its look. For older bathrooms, radiators can also be livened up using paint.
Remember, you can always paint over it if you decide you don't like it, but chances are the physically brighter change will lead to psychologically brighter mornings!
Shower Decoration
You're in your shower every day, so why not make it a special place with unique decorations? The simplest way to do this is to get creative with your shower curtain.
Along with replacing your old curtain with something new, you can also install a unique curtain rod, such as a circular or bowed rod. This will let the curtain hang differently and change look and feel of your bathroom.
For showers that use sliding glass doors, old steel windows can be recycled and installed in their place. It's easy to find unique, industrial style windows that can give your bathroom a more modern look.
But one of the simplest touches you can add to your shower is to paint the curtain rod black. Find some interesting curtain rings that will instantly pop out against a dark support rod to easily accentuate the look of your bathroom.
Decorate Your Floor
A great way to enhance its look is to use a rug that would traditionally go in your living space. Rugs are durable and make great alternative options in place of standard bath mats. Just make sure you're getting a material that doesn't retain water, as it's likely to be exposed to more moisture than it would in other areas of the home.
You can also paint floors, while using stencils and tape to create unique designs that suit your evolving tastes. For patterns, try to keep it as symmetrical as possible to give you the best results.
These easy decorating tips will give you a bathroom that you may find yourself spending just a little extra time in!
Leave a Comment
The comments are closed.