Tips for Renovating Your Home During COVID-19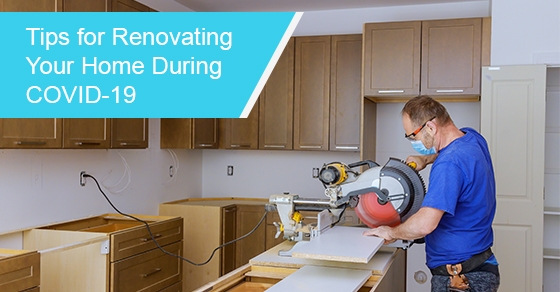 Despite these strange and unprecedented times, we have seen an increase in the number of renovation-related inquiries we have received (and they keep coming). This does not overlook the fact that we are still experiencing a global pandemic.
It is easy to see that home renovation projects will continue to increase, but we must tread lightly now that construction activities are permitted to re-start. We understand that this may mean that our client's budgets may be different, or the type of work we are currently allowed to undergo may change (for example, residential and boutique projects vs. larger commercial projects). Still, our top priority is helping you and our workers stay safe while completing such projects.
Below, we have compiled a list of ways to keep your home safe while remodelling during COVID-19.
COVID-19 Safety Protocols
When in doubt, ask questions. We understand that many clients were left in the middle of a construction zone when the stay-at-home order was released. However, now that work is allowed to resume as part of the provinces reopening plan, you may have some questions about safety, and we are happy to give you an outline of our protocols and answer any question you may have.
Let us reassure you that work is only allowed to continue because we can meet the extensive and essential COVID-19-related jobsite requirements that must be followed as outlined by Phase 1. This means that all workers will maintain a 6-foot distance between you and them. We will also help protect you by familiarizing you with the builder's plans and what remodelers are allowed to do in your home.
Have Protective Equipment Ready and Available
Protect your home by having ready all the sanitation necessities. Equip your home with the following items to ensure you and your family stay safe during your renovation project:
Soap
Sanitizers
PPEs
Paper towels
Cleaning agents
Gloves
If you are concerned about on-site workers, keep in mind that all workers have to wash their hands for at least 20 seconds. Also, find out if you can expect a handwashing station to be installed on-site so that they have a separate wash station from the one used by your household.
As well, every person on the job site must wear a mask and have other personal protective equipment (PPE) on hand. Remember, depending on the size and scope of the work, more stringent PPEs may be required.
When in Doubt, Keep Your Distance
Maintaining social distance protocols is everyone's responsibility. While on-site, workers must maintain a 6-foot distance between them and any other person. As with Phase 1 guidelines, if the work cannot be completed at a distance, it will not continue.
Other safety measures include:
Taking temperatures
Providing adequate training and safety equipment
Frequent cleaning
Clear signage
There you have it. This is everything you need to know to proceed with your home renovation project with ease. These requirements are meant to keep builders, remodelers, and homeowners safe during this time.
If you have any questions, please contact Avonlea Kitchen and Bathroom Concepts at 416-907-4764 today! One of our professionals will be happy to assist you.
Leave a Comment
The comments are closed.