How to Survive a Renovation With Kids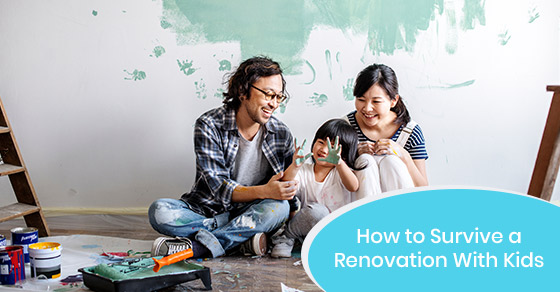 Planning for your home renovation can be even more complicated if you have kids. Updating any portion of your home when kids live in the space means managing schedule disruptions, noise, dust and more. However, it doesn't have to be impossible. Here are some tips to help you survive a home renovation in Toronto with kids.
8 Tips for Renovations with Kids
There are some ways that you can make a renovation go smoother when there are kids in the home.
1. Go slow
When there are kids involved, you'll need to be realistic about your schedule. Take it one room at a time to minimize the disruption to your family space.
2. Maintenance is key
While updating your home's look may be something you want to do, don't neglect the maintenance issues. For example, instead of new kitchen appliances, update your water heater.
3. Family-friendly contractor
Working with a contractor that is experienced working on family renovation projects means you are in good hands. They'll be able to secure the work area to keep curious kids out. You can also ask them about the products they are using and see if there are kid-safe ones available.
4. Involve your children in the process
Letting your kids be part of the process can help them feel included and less intimidated by the process. Give them some paper where they can sketch out their plans or ideas for the room you are renovating. Consider allowing them to take photographs of the work-in-progress. All of these ways can help them better understand what is involved in a home renovation project.
5. Plan an outing
There will be a point when your kids have had enough of the disruption and noise. It's a good idea to take them out for several hours before this happens. Let your kids decide where you should go, whether it is a park, beach, or another fun activity.
6. Declutter before you begin
Depending on the room that you will be renovating, pack away items that are not needed and may just get in the way. This may include putting toys and games away to keep them out of the way and dust-free. One important note: When you pack things away, be sure to have clear labels so you'll know where to find things if you do need them during the renovation.
7. Maintain your schedule
While it may not always be possible to keep your family's routine the same when you are renovating, try to change it as little as possible. Keeping things as close to normal as possible will help your kids adjust better.
8. Keep cool
Home renovations can be overwhelming, and having to manage kids at the same time can compound your stress. However, for your kid's sake, try your best to stay calm no matter what happens.
For more information about home renovations in Toronto, call Avonlea Renovations at 416-422-5376 or contact us here.
Leave a Comment
The comments are closed.