How to Customize a Kitchen Without Blowing Your Budget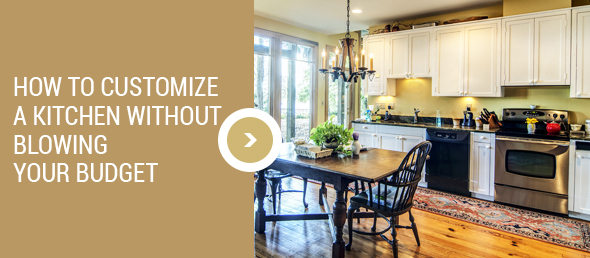 Many of us long for a customized kitchen which reflects our own taste and personality. After all, we tend to spend a lot of time there! Whether we're baking cookies with the kids, having coffee with friends, or sipping wine while dinner cooks, the kitchen is often the heart of our home. So how can we make it perfect?
Customizing your kitchen does not necessarily mean blowing your budget. There are many inexpensive ways to modernize a dingy kitchen or update your home's style. Once you've found the look you love, follow these tips for creating the perfect customized kitchen.
Counters
New counters will really transform your kitchen. If you like the farmhouse kitchen style, you could install butcher block countertops in a warm wood. Or why not renovate your existing countertops in colourful laminate? There are hundreds of colours available, and are great ways to update a contemporary look, or go back in time for a retro vibe.
Islands
Repurposed furniture makes great kitchen islands. A potting bench, for example, makes a great island or prep-table. Funky zinc topped potting benches can be painted to match your décor, plus their shelf provides extra storage.
If you need even more storage, keep a look out for counters from old country stores. These many-drawered objects can be restored or shabby chic. Old fashioned service buffets also make great islands.
Storage
Match or contrast your countertops and island with your storage areas. Even simply changing the knobs and handles on kitchen cupboards can update your look. If you want a more dramatic change, how about making your own cabinetry? You can cheat by replacing your existing doors with checkerboard pattern grilles, perfect for the country cottage kitchen.
Think outside the box, too. Hanging plate racks are great if you have high ceilings, and your plates become part of your overall look. Hanging plate racks are a great look for a farmhouse or cottage style kitchen.
A high shelf for your teapot or vintage plate collection will also personalize your favourite space without blowing your budget.
Freestanding hutch or bureau
Vintage hutches look fantastic in the farmhouse, rustic and cottage kitchens. Keep an eye on yard sales, as they can be pricey in antique stores.
Lighting
Lighting can really transform your décor. Pendants are great for farmhouse kitchens, and refurbished or vintage industrial pendants won't blow your budget.
Leave a Comment
The comments are closed.