How to Create an Environmentally Friendly Kitchen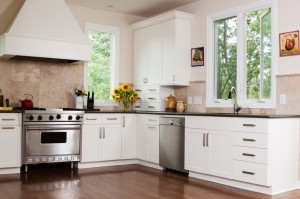 A future where homes are free of toxic materials, construction materials are fully recyclable and reusable, and we create more energy than we consume. That's the vision of writer and green living expert Jennifer Roberts, author of the 2006 book Good Green Kitchens.
Here are a few of her tips for integrating ecological design into your kitchen renovation plans.
1. Choice of wood
When home owners are thinking about replacing the floor in their kitchen, they rarely consider the environmental costs of their choices, writes Roberts.
By choosing endangered tropical woods, we may contribute to a range of environmental issues, including the loss of habitat, extinction of species, and the "loss of uncounted economic, cultural, and spiritual benefits that indigenous people received from their forests."
Roberts suggests reclaimed wood, such as material reused from abandoned buildings, or wood from FSC certified forests and plantations.
Some of the other popular and eco-friendly alternatives to wood include:
Cork (but consider pre-finished materials to protect indoor air quality, and avoid products with a vinyl layer)
Stone (look for locally-sourced products, or reclaimed stone)
Terrazzo (be careful not to install with products such as epoxy, which emit toxic fumes)
Tile made of ceramic, porcelain and glass (avoid products with lead-based glaze)
2. Green storage
When thinking about upgrading your storage by installing new cabinets, here are some things to consider.
Avoid low-quality cabinets that will quickly end up in a landfill.
Try fixing up your old ones instead of replacing them entirely. Tricks include replacing dated hardware, like knobs and drawer handles.
If you plan on replacing the cabinets, consider getting them deconstructed into usable materials instead of demolition.
Choose products made of green materials like bamboo or even metal, which often contains recycled materials, and which can always be recycled later on.
3. Counters tops
Like all other aspects of the home, choosing something durable that you love will mean it lasts for decades. And like other parts of the kitchen, some counter material can be salvaged from other buildings, instead of being sent to the landfill, if you know where to look.
4. Energy & water conservation
Cooking and cleaning means a lot of electricity and water consumption. Here are some tips on conserving these resources and reducing your carbon footprint:
Don't succumb to the advertising pressure to plug in extra "drawer-style" appliances, like mini fridges. "Install the instead of, not in addition to, full-sized appliances," writes Roberts.
Choose an Energy Star approved fridge and when you replace your old appliances, get them recycled.
Get your leaky faucets fixed: thirty drips per minute will waste 130 gallons of water per month.
Avonlea Kitchen & Bathroom Concepts
1980 Danforth Ave
Toronto, ON M4C 1J6
(416) 907-4764
avonlearenovations.com
Leave a Comment
The comments are closed.