How to Create an Efficient Walk-In Closet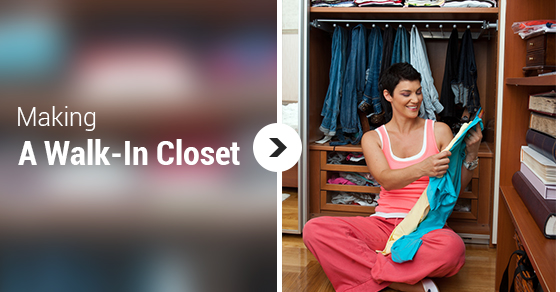 Walk-in closets are the coveted bedroom design element that many homeowners desire to have, mainly since they offer numerous benefits over their traditional counterparts. Extra storage space is obviously the most important of these, and having a designated place to get ready in the morning runs a close second.
If you are planning on building a walk-in closet, there are a few areas to address to make the most of the space without breaking the bank.
To maximize efficiency, you need to create a design plan that balances storage room, convenience, and comfort. Instead of expanding the size of the closet; look for the best ways that allow you to make the most of the existing square footage.
Designing Your Ideal Walk-in
Take an itemized inventory

Once you know exactly how many pieces of clothing will be in the closet, you will have a better understanding of what to include as far as storage features are concerned.

Modular closet systems are an excellent choice for most people, as they are affordable and offer a large degree of flexibility. They typically consist of shoe racks, wall-mounted shelving, dressers, and overhead storage for miscellaneous clothing items.

Use open storage containers

Unlike closed-storage systems, open containers are easily accessible and make it easier to organize like small items (socks, underwear, tee-shirts, etc.).

Simplicity is the key here, and is why we strongly recommend that every walk-in closet feature these devices.

Install sliding rod organizers

There's a reason retail stores use these on their storage racks, and that's because they help keep clothing sorted. With them in place, you will never be left guessing where your favorite outfit is, or struggling to find a specific suit for a job interview or other special occasion.

Set up clothing hampers

Just because you now have more room with that new, walk-in closet doesn't mean you should litter the floor with dirty linens.

Leave enough room for a multi-slot hamper that will simplify your laundry cleaning duties! Sort the container by lights, darks, and delicate.

Make room for bench seating

It is a lot easier to get dressed when you have a place to sit down. Lightweight benches are portable, can be rearranged with ease, and simply are a life-saver.

There you have it, a few strategies for making sure your walk-in closet works for you.

Remember, extra space is not always the solution. You can save a lot of money by figuring out ways to utilize what room you do have!
Leave a Comment
The comments are closed.