How to Choose the Right Bathroom Design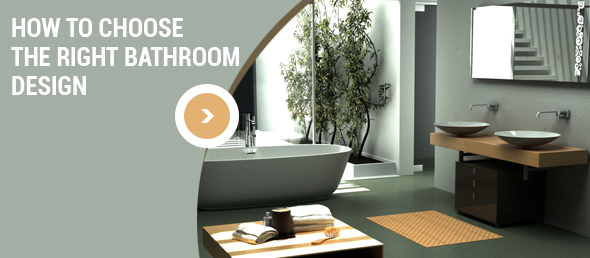 Does your master bathroom need updating? If your plumbing needs updating or your fixtures are getting too old you'll be considering a bathroom reno. A renovated bathroom increases the value of your home, as well as making it a much more pleasant place to live.
But before you start drawing up plans and excitedly choosing antique fixtures, make a budget and stick to it. Price everything out before making your final decision.
What should you consider before choosing a new bathroom design? Architect Stephen Vanze gave some expert tips to Fine Homebuilding.
Connecting bed and bathroom
Do you get up for work much earlier than your partner, and worry about waking them when you shower? How do you enter your master suite, and how is your bedroom connected to your bathroom? Is your bathroom visible at all times—and do you want it to be? Renovating the connection between your bed and bath can greatly improve your living space.
If the bathroom door is directly off the bedroom consider creating a dressing area between the bedroom and bathroom — a passage with closets at either side — through which you pass when accessing the bathroom. This buffer zone allows maximum separation of bed and bath, providing the most privacy for the bathroom.
Alternatively, many homes enter the master suite via a dressing area.You would pass the bathroom door on your way to the bedroom. This allows for each partner to have a small dressing area with closets, or even a summer and winter wardrobe, in the dressing area.
Make sure your new bathroom design is in proportion to your master bedroom. The bathroom should be smaller than your bedroom. Don't get carried away with the redesign!
Bathroom design
Maximizing space in your bathroom means designing spaces for each essential function: tub and/or shower, toilet, and sink. Organize your areas round a central space.
Do you want a separate tub? Have you always longed for a claw foot tub? Do you prefer showers? Your personal preference will determine what fixtures work best in your bathroom. If your space is very small, perhaps you can just have a shower. If your space is larger, would you prefer the toilet to be in a separate room?
Decoration
Keep the theme of your master bedroom. Your en suite is thematically part of the bedroom, so resist the temptation to decorate in contemporary colours and finishings if your bedroom is a comfy shabby chic.
Leave a Comment
The comments are closed.