Has COVID-19 Caused an Increase in Home Renovations?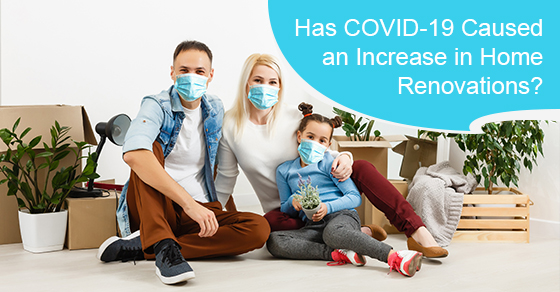 Despite these unprecedented times, since the announcement of Phase 1, contractors have seen an increase in the number of renovation-related requests.
This is a bonus for contractors that have been out of work for the past few months.
Some of these inquiries have come out of pure necessity. However, in many instances, people have just spent so much time in their homes lately that they are ready to make a change. But this is not just about needing to switch the colour of living rooms and re-tiling kitchen backsplashes; it is also about creating an environment where homeowners feel comfortable, inspired, and ready to thrive.
Avoid DIY
Seek professional help when taking on renovation projects at your home. If you plan to do any DIY during COVID-19, keep it within your abilities. Avoid touching the things that could do damage to your home – leave it to the professionals.
The Demand for Home Renovations
Many families also find that they will likely be home for the summer as COVID-19 has them opting for "staycations." This has many people eager to spruce up their living spaces and turn their backyards into a summer paradise and the perfect place to entertain friends and family (at a safe distance, of course).
However, while we are all ready to get to work on renovation projects, this trend does not overlook the fact that we are still experiencing a global pandemic.
Although home renovation projects will continue to increase, we must tread lightly now that construction activities are permitted to resume, and new projects are up for consideration.
Safety is a Priority
When undertaking renovation projects during COVID-19, safety must be the focus of everything that we do. Typically, homeowners are not around during the hours that the building crew is on-site. However, having people working on their home while social distancing restrictions are in place is an adjustment. Sanitation and social distancing are essential in this case. Contractors must work closely with clients to ensure that a clear safety plan is in place throughout the entire project.
Budgets have Changed
Second, we understand that our clients' budgets may be different than pre-pandemic times. Many people have been out of work, and this is going to affect how much they can or want to spend on renovations. This may require contractors to adjust their prices in the wake of the pandemic.
Residential Projects have Restarted
Lastly, the type of work we are currently allowed to undergo may continue to change (such as residential and boutique projects vs. larger commercial projects), or be restricted. Phase 1 has allowed low-risk, essential building projects to continue. What this means for homeowners is that the projects that were halted when the stay-at-home order was put into effect will be completed and new projects will be acquired. Keep in mind that projects will only proceed if they are considered low-risk and if safety protocols can be met.
Our top priority is helping you and our workers stay safe while completing renovation projects.
If you have any questions, please contact Avonlea Kitchen and Bathroom Concepts at 416-907-4764 today! One of our professionals will be happy to assist you.
Leave a Comment
The comments are closed.