Great Gifts for Your Favourite Foodie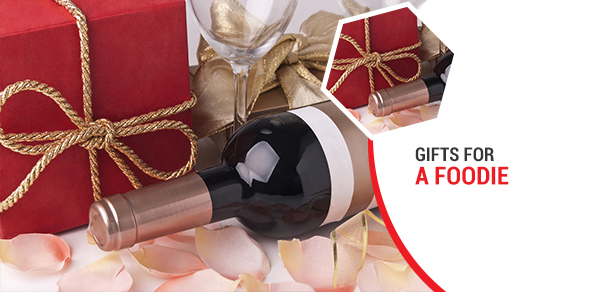 If you're not a foodie, chances are you know someone who is! And when the time comes for you to give a gift to that favourite foodie in your life, it can be difficult to find something that they'll appreciate and use.
But there a ton of great gift ideas for foodies that give you plenty to choose from. No matter what specific tastes they might have, you can find the perfect gift by choosing any one of the following great gift ideas:
1. The Perfect Pancake Plate
Every foodie knows that pancakes are one of the most delicious breakfast foods you can enjoy. And with so many ways to prepare the perfect pancake, one thing is always required: syrup.
The Pancake Plate designed by Jon Wye has succeeded in giving pancake lovers the perfect way to enjoy this favorite breakfast treat. It's been designed to have a slope to allow syrup to drip down and collect in one place. This makes it easy to dip your pancakes in delicious syrup with each bite.
2. Kitchen in a Bottle
If you're looking for a gift idea that's functional and helps your favourite foodie organize his or her kitchen, the Kitchen in a Bottle is one of the greatest foodie gifts you can find.
Designed to look like a bottle of wine, this gift includes a variety of kitchen tools in one unique gift. It includes a juicer, spice and cheese grater, lid opener, funnel, egg masher and separator, and a measuring cup.
It's a gift that your favourite foodie will definitely use, and you know it will look great on the kitchen counter!
3. Lego Minifigure Ice Cube Tray
Lego's are back, and more popular than ever. That's why this ice cube tray is a great gift for any food lover. It's a versatile gift that can be used for any number of treats.
They can be used by adults and children to create anything from chocolate Lego figures, fruit juice ice treats. Some parents have even used them to create crayon moulds for birthday parties.
4. Whiskey Stones
One of the most popular gift items for food and drink lovers are whiskey stones. Traditionally made from soapstone, these allow you to keep your whiskey (on any drink) chilled without diluting it.
It won't affect the flavor of your drink and is perfect for anyone who enjoys a good aperitif, digestif, or anything in between.
These are just a few gift ideas for your favourite foodie. Anyone who loves new and creative ways to enjoy their food and drinks will enjoy these gifts. Finding the right gift is easy and lets you help others enjoy their favourite things in life.
Leave a Comment
The comments are closed.