DIY Ways to Accessorize Your Kitchen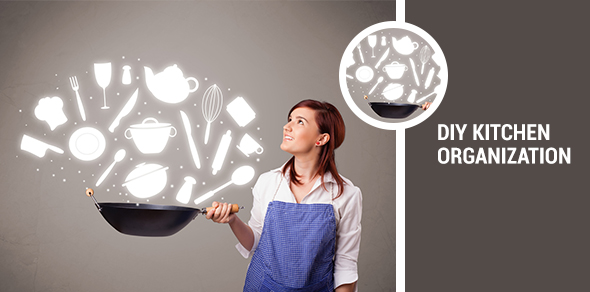 Does your kitchen need a new look? It's probably been a while since you changed anything in and around your kitchen- Studies show that it's often the room with the least amount of reorganization in the entire home! But if you feel like it's time to update it, then here are some simple do-it-yourself ways to accessorize and enhance the look of your kitchen.
With just a little creativity, you can create your own kitchen accessories or upgrade existing ones. And all it requires are some simple materials that are easy to find. You'll get to customize the look of your kitchen and enjoy an entirely new look.
Sewing Your Own
No matter what your sewing skills may be, you can easily learn the basics and use them to create a number of kitchen accessories. Oven mitts are popular among DIY home designers, and are easily made using a selection of fabric, insulation lining, some pins, thread, and a sewing machine.
Potholders are another common item that can be made for your kitchen- you can crochet your own holders using a wide range of colors and patterns! The task doesn't take long, and potholders are one of the most useful items you can have in your kitchen.
The Art of Utensils
You can also upgrade the look of items you already have. One of the simplest ways to do this is to use glass paint markers on cups and plates. These are safe for dishwasher cleaning and let you get as creative as you want.
You can also use porcelain paint to customize teapots and other kitchenware. If your painting skills are lacking you can still use brushes, toothpicks, or cotton swabs to create unique designs that spruce up your kitchen immediately without the need of artistic ability. Abstract designs often look best on small pieces of kitchenware.
For wooden utensils, gather some masking tape, a foam brush, and paint to add color to the handles of the boring wood. This can also be a great way to organize them by designating certain colors for a particular utensil group!
Make Your Refrigerator Into Art
Appliances don't have to be dated either. Most people never think to spice up their refrigerator. But in fact, there are some easy ways you can create unique designs on your kitchen's appliances.
Magnets can be used to decorate for your refrigerator. Find some old cans that you can paste magnets on to create unique accessories that are also functional for storing pens, notes, or anything else.
You can also change the look of your refrigerator by using removable wallpaper. These come in a wide range of colors and patterns, allowing you to make a big change in the look and feel of your kitchen. Contact paper can also be used as an alternative and is just as easy to add to the face of your fridge. Just don't forget to leave holes for the handle!
These are just a few ways that you can accessorize your kitchen. Create your own accessories with minimal supplies, or upgrade your current ones by adding color and style. Wallpaper and magnets are easy ways to redo your entire refrigerator and other appliances. You can upgrade your kitchen quickly and with minimal cost!
Leave a Comment
The comments are closed.