Budget Friendly Bathroom Renovations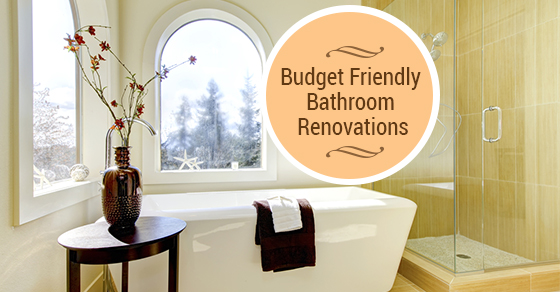 If you are thinking about renovating your bathroom, you are probably excited about all of the future upgrades but at the same time, the costs associated with renovations might be scary. It is important to make a flexible budget, but you don't have to go too far outside of your budget to have a bathroom that you will love.
Here are a few ways to renovate on a budget:
Painting

This one of the cheapest remodeling techniques around. All you need is some paint (usually about a gallon). Put down a floor covering option such as canvas or plastic sheeting and a bathroom primer.

Lighting

Use overhead lighting and lights that frame the mirror. You will need to hire an electrician to install these lights and it will cost you but it's worth it to spruce up the area. At Avonlea, we are able to assist you with all of your lighting needs. You can also buy a high quality fan to keep the air circulation flowing freely.

Flooring

Two reasonable options include tile and linoleum. Tile is cheap and can be used over other flooring options. For small spaces such as a bathrooms, it can be done in a cost-friendly and quick manner. Linoleum in small to medium sized bathroom can be easy as well. You might be able to roll out a section of linoleum over your current flooring and glue it down. You will want to speak with a specialist to complete these changes to your bathroom flooring as it takes a particular level of expertise and skill to perform the job.

Sink

If you aren't in love with your current sink that may be cracked, chipped, or just needs an upgrade. You can get an affordable replacement and pair it with new fixtures to change up the look. Try a new water saving showerhead, and buy a shower curtain and curtain hangers that change the mood of the room.

Toilet

Have a new toilet installed. Find one with low-flush/high efficiency toilet that will save you money and use way less water than a full-flush toilet. These aren't cheap but they are worth it.
There are many cost-effective ways to upgrade your space. You don't have to get a full renovation completed. Little changes will help make your space look and feel better for you. Take a look at the services offered by Avonlea here.
Leave a Comment
The comments are closed.