4 Easy Ways to Organize Your Kitchen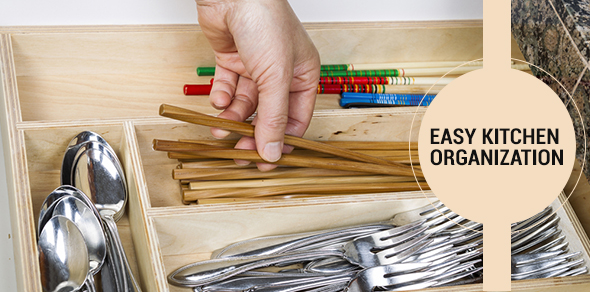 The kitchen is the center of your home. It's where everyone gathers during special occasions, and it's the place where you and your family make time out of your busy schedules to share time together, and it's the one place you should never be surrounded with clutter.
Because so much happens in your kitchen, it can be difficult to keep organized. If you're looking for new ways to get your kitchen in order, then our following tips will get you started. You'll have a kitchen that's free of clutter and will be able to create additional space that you can use and enjoy.
1. Organizing Utensils
Utensils are some of the hardest items to keep in order. They come in a variety of sizes and are easily misplaced. Add the additional factor that some utensils are used on a daily basis, while others hardly see the light of day, and you have an organizational conundrum on your hands.
Professional kitchens are known for their organization. Most chefs have their large utensils hanging in places that are easy to reach when you need them most. It allows them to have their cooking accessories within arm's reach at all times, allowing them to prepare their meal without interruption.
Even better, you can easily and inexpensively create your own hanging station! Just use a metal rod and some standard "S" hooks to create the perfect utensil station for your kitchen. All of your ladles and spoons will be visible at all times, so that you know where to find them.
It also allows you to free up room in your drawers to tuck away the items you may not need handily ready on a daily basis.
2. Lazy Susan
You might already be familiar with the Lazy Susan as it's one of the most practical devices you can use in your home. Although most people use it in their pantry for organizing spices or at the dinner table for sharing meals, they're generally not considered for one of their most useful areas- it in your refrigerator!
Putting a Lazy Suzan in the fridge is one of the fastest ways to organize your stored food. In fact, the refrigerator is notorious for developing those hard to reach spots when you need to find something. The Lazy Susan is the perfect solution for your organization!
3. Filing the Cutting Boards
Think of the ways in which you organize your office. Now consider using some of the same ideas and tools in your kitchen. That's exactly what you can do using a standard office file holder!
These are great for storing your cutting boards, and there's a good chance you've already got one in your home. Just place your cutting boards in the holder for easy organization. It's also a great way to dry them after washing.
4. Store Your Plastic Bags
Plastic bags can quickly pile up – and sometimes in the most unlikely places. Why not take those bags and put them in one place that they'll be neatly stored away?
You don't need to go out of your way to buy a storage device. In fact, find an old tissue box and simply stuff as many plastic bags as you can inside. This makes it easy to dispense bags when you need them.
With these easy tips, you can start organizing your kitchen today. Hang your utensils using a metal rod and hooks, use a Lazy Susan and file folder holders in new ways to help you organize the refrigerator and cutting boards, and store plastic bags in recycled boxes.
In minutes, you'll have a neat and organized kitchen, and you'll know exactly where to find the things you need exactly when you need them!
Leave a Comment
The comments are closed.