3 Small Changes to Make Your Home Look Good as New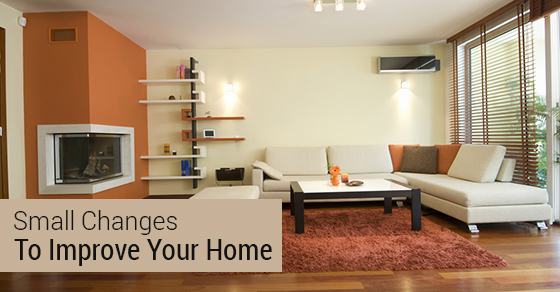 The best thing about being a homeowner is having the freedom to design and decorate your living space to your liking. As a tenant, you are at the mercy of a landlord when it comes to this sort of thing, which is why so many people are bound and determined to move away from the rental scene.
That being said, we all want to make our home as inviting and comfortable as possible, but budget restrictions sometimes hinder us from decorating the way we want.
Don't let potential money setbacks get you down though, as there are a few simple (and ultra-affordable) tricks you can engage to create that designer-worthy space you have been dreaming about.
Sure, it's always nice to buy new living room furniture, a matching set of kitchen appliances, or be able to tackle a big renovation project, but most of the time it is the little things that make all the difference from a design perspective.
It's time to think outside of the box and explore your creative side!
Tried and True Budget-Conscious Interior Design
Large area rugs and neutral colors

Not everyone can afford a room expansion or addition. If you are working with a small room and want it to appear bigger, splash a coat of neutral-toned paint on the walls and add an oversized area rug.

These design elements work create the illusion of enhanced size, and can make any living space feel much more open.

Let the light shine

When it comes to making a room feel less boxy and cozier, the cardinal rule is to allow plenty of natural light in.

Consider swapping out those thick curtains or drapes for plantation shutters or Venetian blinds. Sunlight always adds plenty of warmth and character.

Sofa cushions and throw pillows

One term you need to always be aware of when designing a space is "focal point." Something as simple as rearranging your living room furniture and purchasing a few decorative cushions or pillows (bright colors work well here) can have a major, positive impact on the look and feel of the space.

Feel free to mix and match styles or keep the design theme uniform throughout the room. Regardless of what materials you end up choosing, this is by far one of the cheapest and most effective ways to spruce up a room.
As these tips prove, you don't need to spend a lot of money to make your home look like a million dollar property. These are the same ideas many interior designers rely on when tending to their clients' decoration needs!
Leave a Comment
The comments are closed.