3 Common Bathroom Design Mistakes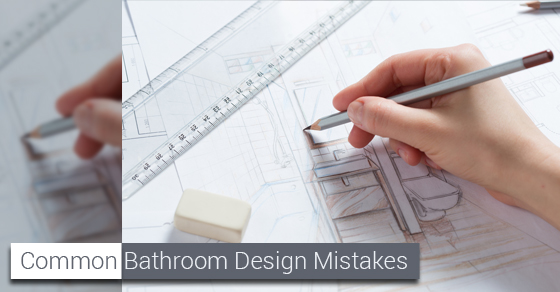 You might have an idea of the features you desire in your new bathroom, but this doesn't means you're prepared for each element of the design process!
Bathroom design work requires careful consideration of all the factors involved within the process, and without that careful consideration, long-term issues can arise. To help you avoid the most common bathroom design mistakes, we're highlighting three of the most common mistakes.
Ineffective Budgeting

A complete bathroom renovation project is not a small task. There are likely major plumbing revisions to consider, the full cost of products such as new tiling, and the possibilities of a new shower and bath. It's important to plan for being over-budget when you price-out your dream bathroom design.

Budget problems at the start of projects can cause numerous headaches throughout the project's completion. For example, you might not have enough in the budget to pay contractors for any changes required, and you may run out of money for required additional materials. Ensure you have at least an additional 20% of your budget in free capital just in case problems arise.

Lack of Storage Options

That luxury bathroom will have little functionality without the available storage space included in the design. There's little point having access to the latest technology when you lose those little conveniences that can make the bathroom a comfortable space to enjoy a shower or bath.

Bathroom spaces must feature enough storage space to comfortably store toiletries and other essentials. It's important to consider shelving and cabinetry as one of the first elements of the bathroom design. While they might not be the most exciting elements, these spaces will vastly improve the practicality of the room.

Choosing Trendy over Quality

It can be tempting at the beginning of a bathroom renovation project to select the trendiest products available for the bathroom space, but cutting-edge products such as waterfall showerheads and illuminated faucets don't often hold their value as well as classic fixtures that have been utilized for generations. All fixtures, materials and colours should be selected with return on investment as a foremost consideration. Neutral colours and classic styles can help create that ideal bathroom space and prevent you from overspending on items that will quickly become dated.
By creating a solid structure to the bathroom design process, homeowners can mitigate long-term design flaws and expensive mistakes later in the project. To learn more on the bathroom design process, speak with one of our expert team members directly.
Leave a Comment
The comments are closed.