Redesigning Your Bathroom With A Tub: 5 Ideas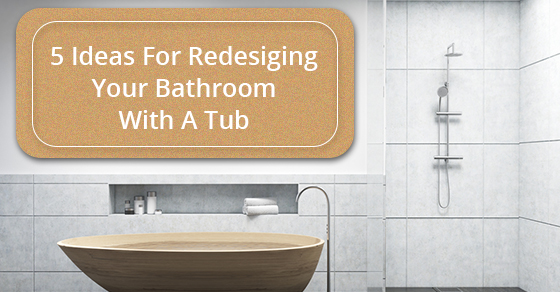 The bathroom is one of the most used spaces in your home. Because they're so well used, bathrooms are one of the first rooms to get tired. A bathroom remodel or redesign can inject some pizzazz into a dated bathroom. Adding or updating a bathtub is one of the ways to change the look and ambience of a bathroom. Here are some ideas for sprucing up your bathroom with a new tub.
Colour Change

Changing the colour in your bathroom is the easiest way to give it a facelift. But colour doesn't have to be constrained to the walls. If you're revamping the shower and redoing or installing a bathtub, the sky's the limit these days when it comes to finding a tub in a different colour or material. Depending upon your budget you can even go all out and have a marble spa installed. Want to make a real statement? How about a black clawfoot tub with modern fixtures and pristine white walls and accessories? Modern bathroom design allows you to be as creative as you wish.

Custom Design

Again, depending upon budgetary restrictions, you could have your bathtub and shower area custom designed. If you have a themed bathroom, the tub could be designed in line with that theme. Even the shape and size of the tub can be fashioned to suit your personal taste. There are also many bathtub designs already available that might suit your design plans.

Mixing Old and New

Combining old and new materials is a way to give your bathroom its own, unique appeal. For instance, marble and metallic would make a distinct statement, or perhaps old school mosaic tiles and a modern metal bathtub. Use your imagination to create a bathroom that is truly personal for you and your family.

The Focal Point

If you have a limited budget, you can focus your resources on the bathtub and make it the focal point of the room. If you incorporate a freestanding tub, the eye will go straight to it. The key is to have everything balance by placing the tub where everything flows. Consider the shape of the tub as well. You could opt for a traditional oval design, or choose a more modern feel and go with rectangular.

Lighting

Adding some soft lighting around the tub will instantly give the space a spa feel. Choose light fixtures that highlight the bathtub rather than detract from it. Simple but chic would suffice.
Leave a Comment
The comments are closed.