7 Simple Upgrades to Refresh Your Bathroom and Look Your Best in It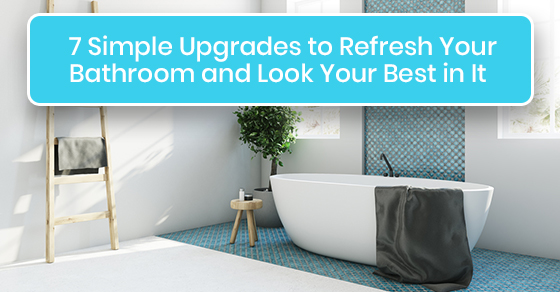 A clean, refreshed bathroom plays a huge part in feeling fresh and ready to take on a new day — simply because your day starts in the bathroom. But does your current bathroom make you feel fresh and energized every time you step out of the shower? It's time to revive a tired washroom with simple bits of style and character that won't hurt your pocket!
Check out these simple ideas for modern and functional bathroom renovations:
1. Coordinate Your Accents
There's nothing that spells luxury better than a designer touch. But it doesn't have to cost much. All you need to do is opt for a coordinated colour scheme or feel, like matching a silver mirror frame with decorative metal outlet covers and accents. As a bonus, refinish bathroom fixtures by simply reglazing them to achieve a modern, sophisticated aesthetic.
2. Use Tiles Smartly
Bathroom tiles are the most common and versatile element in any washroom, and for good reason. Marble stone slabs are the dream vanity, but you can easily achieve the same luxurious feeling with a tiled counter and a refreshed tiled floor. When using tiles for your bathroom renovation, ask your contractor about a tiled counter that resists water with matching edging to complete the look. Then, make sure to remove ground-in dirt from the surface and grout lines of floor tiles for a polished feel.
3. Freshen Up the Tub
There's nothing like kicking it back in the tub for a nice, long bath after a gruelling week. But sometimes, a limited edition bath bomb and some champagne or wine just won't cut it — you need to refresh the tub itself. Forget a pricey claw-foot upgrade; a bathroom renovation can easily be achieved by using a metal tub surround. A rustic and rustproof surround made of corrugated galvanized steel roof panelling can instantly give your tub the luxe, refreshed look you've been craving — and frankly deserve after working so hard!
4. Dress Up Your Mirror
A simple upgrade to reflective surfaces can do wonders to your confidence. Forget plain mirrors — have fun getting ready in front of a dressed up one, so you can easily be inspired to look and feel your best, too. This simple bathroom renovation trick can be done by framing the mirror with a wooden overlay and ledge; you can also flex your creative muscles more to mix-and-match glass tiles to create a bright and playful multicolour frame that ties into a tiled wall.
5. It's All in the Lighting
This is true for everything — from capturing stunning photos to remodelling your home, and yes, bathroom renovations. Elegant lighting creates a focal point, like the ceiling, while illuminating the rest of the room in the smartest, most energy-efficient way possible. For modern, rustic charm, use a medallion hanging fixture and make sure that there's ample clearance from the tub to the bottom pendant to ensure compliance with the electrical code.
6. Don't Discount Natural Lighting
Lighting fixtures are great, but if you want that perfectly soft morning glow make sure that your bathroom renovation project harnesses the power of natural lighting. Use plantation-style shutters for dressed-up but functional windows. They strike just the right balance between privacy and subtle illumination by letting in small, direct streams of sunlight. If your windows are designed with a ledge, you can also use them to add some accents and turn them into a display rail. You can store both toiletries and bathroom decor for smart storage and a personal touch.
7. Smart Storage
Storage is essential in every bathroom, and when you renovate yours, you'll want to make sure that you have enough of it without taking up too much space and ruining the aesthetic. Depending on the look that you're going for, you can repurpose a vintage vanity to turn into a sink cabinet or use a sleek wall-mounted version to subtly store toiletries. Maybe find a stylish metal shelving unit or hunt down some actual vintage ones from salvaged medical, lab, or apothecary junk, or carve out a cubby on the wall and frame the recess with complementary moulding. Whatever your aesthetic is, you won't run out of storage solutions that are equally stylish and functional.
To learn more about upgrading your bathroom, call Avonlea Renovations at (416)-907-4764 or contact us here.
Leave a Comment
The comments are closed.