5 Things You Can't Forget When Renovating Your Bathroom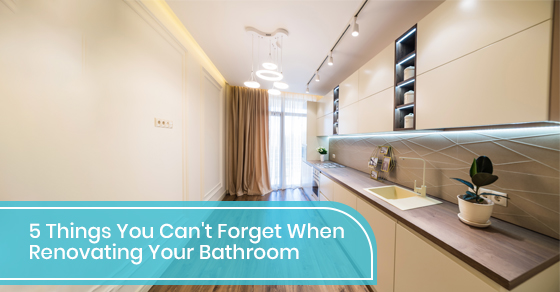 Bathroom renovations are said to give home sellers a return on investment of over 60%, which is one of the reasons why they have become the most popular home remodelling project, more than kitchen renovations.
Even if you don't plan on selling your home, having an updated bathroom with a spa-like feel, the right amenities and fixtures, and your personal styling will deliver function, comfort, and value to all users.
Although your bathroom is one of the smaller spaces in your home, it's surprising how easily your renovation project can run off the rails with issues that range from low-quality materials to missed deadlines to stretched budgets. Fortunately, through careful planning and consultation with bathroom remodelling professionals in Toronto, you can get it right the first time.
Here are some things to keep in mind when renovating your bathroom:
Timeless vs. trendy design

If you have just moved into your dream home, then you will be looking to transform your bathroom according to your tastes and preferences. But if you intend to sell your home in the short-term, you should consider not only trends that you like, but also the elements that would appeal to prospective buyers.

Keep in mind that bathroom renovations are typically done once every 15 years. So if you intend to sell your home within this time, it's recommended that you use a timeless design with proper coordination of the colours and other elements like the vanity, countertop, and tile to get the most value for your money.

Adequate ventilation

Your bathroom should have sufficient ventilation for odours to escape and to eliminate moist air that can allow mould to grow. If your bathroom doesn't have a window, you should consider installing an exhaust fan to help dry the space and prevent mould and mildew.

Ease of cleaning

Bathrooms get quite messy and should be regularly cleaned to keep the space tidy and sanitary. Considering that you will likely be doing the scrubbing yourself, your bathroom renovation plan should allocate enough space when placing vanities so there's enough room to clean with ease.

Professional designers recommend that you leave a space of at least 4-inches between the walls, bathtub, and vanity for easier access when cleaning.

Non-slip flooring

Make sure you choose the right type of floor for your bathroom to prevent slipping injuries. It's not uncommon for homeowners to become infatuated with an attractive tile that's slippery. But for your safety and that of your loved ones, you should find non-slip flooring, especially for the shower floor that matches your bathroom decor.

Proper lighting

Your bathroom should be well lit. To achieve this, you will likely need a variety of lights including pendant overhead lighting to elegantly scatter light in all directions and ambient options such as frosted glass fixtures, sunken track lighting, or rice paper to eliminate shadows.

Depending on your taste and budget, you can also include perimeter lighting to provide a soft, ambient glow or LED recessed lights beside the mirror with dimming switches so it's not too bright.
Finally, you should consider that your bathroom serves multiple functions. So you must provide enough storage for all the essentials, like grooming products, towels, rolls of toilet paper, and so on. To avoid leaving out any critical elements in your project, make sure to consult bathroom renovation professionals.
For more information about renovating your bathroom, call Avonlea Renovations at (416) 907-4764 or contact us here.
Leave a Comment
The comments are closed.