4 Major Benefits of Bathroom Renovations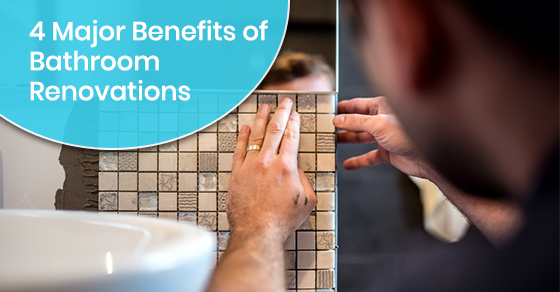 You should never think that upgrading your bathroom is an unnecessary expense. Even the smallest changes can make the most significant difference. When it comes to bathroom renovations, even the most minor upgrade can offer a lot of advantages. Not only can you make your bathroom a personal retreat for your relaxation and downtime, but a bathroom renovation can do wonders for your wallet and quality of life. It can also increase the function of your bathroom!

Below are four big benefits of renovating your bathroom.

Dedicated Relaxation Space

Whether you're considering renovating, adding an ensuite or remodelling your current bathroom, there are ways you can make your new space functional as well as relaxing. Neutral colours and textures such as natural stone tiles create a peaceful vibe. While rain showers, a jet tub, or a steam shower can help release the stress from a long day. Think about storage options and minimalistic looks to optimize your bathroom as your hub of self-love.

Increase Home Value


Most remodelling work can increase the value of your home, but if you have a dated bathroom, remodelling can mean a big return on your investment. Consider switching outdated toilets, sinks and bathtubs for eco-friendly and water-saving options. With these updated fixtures, you expect a larger tax return as well as less money spent on utilities in the long-run. Upgrading your bathroom can also be a significant selling point for buys if you are selling your home. When people see a beautiful bathroom, they assume that the rest of the house is nice too. Some people even go house-hunting looking specifically for upgraded bathrooms!

Improves the Aesthetic


When you decide to remodel your bathroom, you'll likely be surprised at how much you will love how your new space looks. Instead of walking in and feeling annoyed or worried by the dated vanity, fixtures or mildew and plumbing problems, you'll enjoy the safety, functionality, and appearance of your bathroom. Looks may not be everything, but peace of mind is; remodelling your bathroom will help you get more enjoyment from your home.

New, Fresh Space


The current trends in home design and decor are all about minimalist style. Incorporating such trends into your bathroom means creating a more open and spacious bathroom, which makes it easier to keep clean. Also, because your bathroom is new and renovated, you have more of an incentive to keep it fresher than usual. If your old bathroom isn't as nice as you'd like, you can become a little too relaxed in keeping it clean.


For more information on bathroom trends and renovations, call Avonlea Renovations at (416) 907 4764 or contact us here.

Leave a Comment
The comments are closed.