Top 5 Trends in Kitchen Renovations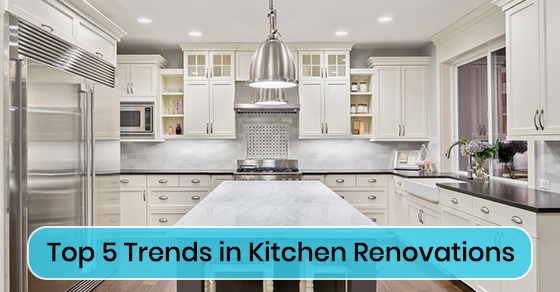 In the past, the kitchen was hidden in the corner of the home. It was a place where meals were prepared, and dirty dishes washed. Today, the kitchen is the focal point of the home where families come together at the beginning and end of the day.

The function of kitchens has changed a lot over the decades, so it's not surprising that their style has changed too. Planning your kitchen remodel needs to take into account the popular trends and fashions of today.

Below are five trends that are hot on the market for 2019.
Matte Black Cabinetry
Although white cabinets always give a classic look to any kitchen space, we are slowly starting to see them on their way out. This season is all about matte black cabinetry. It is clean, it's streamlined, and offers a look to your home that screams modern, minimalist chic. As the focal point of your home, your kitchen demands simplicity, it demands someone with an edgy-side, and matte black cabinetry does it all.

Expect to see lots of black and matte-finished cabinetry in the trendiest kitchens this year!

Wood Finishes and Detailing

Another top trend in kitchen renovations this year is wood finishes and details. Wherever you can incorporate natural elements into your design, the better. Consider the ways you can introduce natural wood drawers, a rustic looking table, or accessories into your kitchen. Nature is in—as it should be.
Industrial Countertops
Quartz or granite offers a timeless and expensive feel to your kitchen, but it's often not a realistic expense for most people renovating their kitchen. Alternative vinyl products can seem like a cop-out, especially in the style department. That's why more and more people are choosing industrial concrete counters for their kitchen. They offer a unique look to your space for great value and will last for many years.

Integrated Technology
We are in the age of technology, so some tech bling has to make its way into your kitchen renovation. From motion-sensing light switches, touch appliances, and built-in tablets, the market offers an endless amount of fun tech to introduce to your cooking space. You definitely won't want to miss out.

Texture
Homeowners are getting more streamlined in their overall aesthetic, incorporating alternative materials into their kitchen designs. People like to come home to stress-free environments, which usually means simplicity. Where homeowners are making their kitchens simpler, they are introducing new and exciting textures like natural stone backsplashes, wood finishes, attractive floors, or dynamic light fixtures. Simple does not have to mean boring!

For more information on kitchen trends and renovations, call Avonlea Renovations at (416) 907 4764 or contact us here.

Leave a Comment
The comments are closed.