Our 8 Tips for Living Through a Kitchen Renovation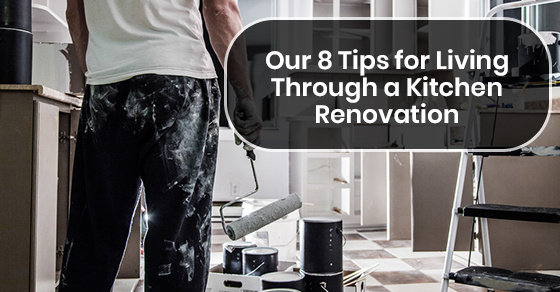 Renovations can really get in the way of our everyday lives, especially if it's your kitchen. Whether you're doing a small renovation or a big one, living without a kitchen can become an expensive hassle. Not having a kitchen can lead to eating out more frequently and could potentially ruin your remodelling budget. Having a plan and preparing for the lack of kitchen space will help you survive and save money. Here are some tips to help you get through a kitchen renovation.
Set up a temporary kitchen

Plan to set up a temporary kitchen someplace else like your garage, basement or utility room. Somewhere with a sink would be ideal as this would make things easier. Before your contractor gets rid of your old cabinets, ask them to place a few where your temporary kitchen is. You can also place some plywood on top of the cabinets if you don't have a countertop anymore. This way you'll still have a workspace and a place to put your appliances.

Create a bulletin board

Set up a bulletin board to track the progress of your kitchen remodelling progress. Take frequent photos and make a checklist and calendar to keep track of the progress and cross off each step as it happens. This will help keep your frustration down if you can see that progress is being made. Remember to be patient as the process is never as quick as you hope it would be.

Use clear plastic containers

For easy access and to make things more convenient, use clear plastic containers to keep commonly used kitchen items and label them accordingly.  This will make things easier to find when you need them. For things that you only use occasionally, place them in boxes and store it in an out of the way place.

Make meals ahead of time

If you have access to a freezer, try making some larger meals ahead of time and freeze them in smaller portions. This will make things easier on you as you can defrost single meal portions and reheat them in the microwave.

Cook for a friend

You can offer to cook a meal for a friend in exchange to use their kitchen. It's a win-win for everyone and you'll have a great time as well.

BBQ

If your renovations take place during warmer weather, make use of the barbeque. A way to avoid grill marks on your cookware, rub bar soap on the bottom and sides of your pots and pans and the black soot should easily wash off.

Collect coupons

Start slipping coupons for restaurants and take up before renovations start. This can help you budget and save money to go towards your renovations.

Get a camping stove

Invest in a camping or propane cook stove. These come in very handy when you don't have access to a fully equipped stove.
For more information about planning for your kitchen renovation, call Avonlea Renovations at (416)-907-4764 or contact us here.
Leave a Comment
The comments are closed.