5 Hacks to Prepare For a Kitchen Renovation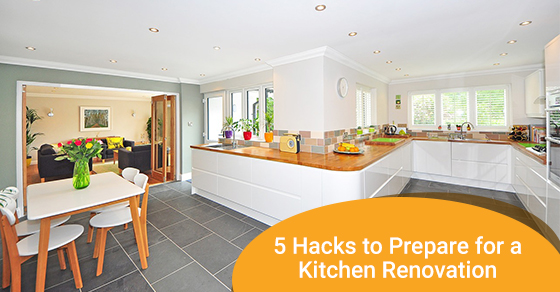 It just takes one trip to your local home renovation store to start to feel kitchen envy. Gleaming stainless-steel appliances, stunning granite countertops, and those smooth opening kitchen drawers and beautiful wood grain cabinets. All these details can make even the most functional kitchen at home look dull, dirty and unloved. Once you choose to renovate your kitchen, you can finally not only have the kitchen of your dreams but also look forward to enjoying it with family and friends. To make the whole process less daunting here are our top hacks to help you prepare for your kitchen renovation.
1. To DIY or Not to DIY
The first thing to consider is whether you've got the know-how, patience, and skills to do it yourself. You have to consider a lot of factors for this decision, as it will be the most important one you make. This is a major undertaking that will usually also require some pros to do the electrical and plumbing. The more involved your floor plan changes, the more likely it is you will encounter some issues when you have to knock down walls and discover unexpected things beneath such as pipes, supporting beams or even mould.
It is also a long project that can take up to a month, even when hiring the pros. Considering they are working full time and you will be working at nights and on weekends, the project can drag out for months or even years depending on how determined you are to get finished. Last, consider a budget. It might seem less expensive to take the DIY route, but when you take into consideration that contractors have discounts for all of the materials and finishes and also factoring in the cost to cover mistakes you make that can lead to the need for more materials not to mention your own time. It's usually is a good idea to at least get some quotes to find out if your assumptions are correct.
2. The Scheme and Plan
The reason you are doing this in the first place is probably that you want to update the look of your kitchen. However, now is the time to also look at the shortcomings in function. If you have lived with the kitchen for a while, this becomes an easy task as you can sit down as a family and discuss all the issues you run into every day. From appliances that can't open completely due to their position on the floor plan to having to walk several paces from the chopping area to the stove, functionality is key to a well-remodelled kitchen. The pros use a triangle design which provides easy access from the fridge to the sink to the cooking area.
Ask yourself these questions:
1. Would you like to have space for a table or breakfast bar?
2. Can you add or remove an island?
3. Would you like to have more open space on the wall and fewer cabinets?
4. How will this affect your storage?
5. Would you like more electrical outlets for small appliances?
6. How is your task lighting?
Once you complete your list of kitchen functionalities, try making out some preliminary rough sketches to see how you can get the kitchen working to suit your needs. These will come in handy whether you are going the DIY route or with a contractor. You can use them at the home reno center or provide them to your contractor when getting quotes.
Your sketches should also include measurements which will make it easier when looking for appliances or other features you might be considering. You will need your full counter measurements and room measurements as well as anything that might cause challenges such as bulky overheads, windows, doors, etc.
One thing people often forget when thinking about their plan is electrical outlets. This can impact functionality as well as layout as first of all, major appliances require special outlets, and second of all you might forget you could use some extra outlets under cabinets or along the counter, etc. Make sure you indicate where the existing outlets are and where you would ideally like to add some new ones.
3. Expansion and Improvements
As you are working on your floor plan it might occur to you that it would be helpful to knock down a wall or two. You might also just be sick of living in a home that is so shut in by too many rooms. You can look at your overall home layout and see if you can not only improve the function of your kitchen, but also the flow or your home. Again, this is where a pro comes in handy to help determine which walls can be removed, which have to stay, and also if there are workarounds such as adding a supporting post to allow you to at least get things more open than they are now.
4. Nice to Haves Versus Must-Haves
Things such as structural modifications will not only make your home more appealing but will also add to your budget! So, it's very important to determine a list of nice to haves versus must-haves. It's a pretty easy process. Just make a list of the things you must have, such as new appliances and cabinets, and then a list of things that it would be nice to have such as an open concept space or some high-end finishes. This will help during both the quoting phase as well as the shopping phase as you will be prepared to start crossing things off your list, sadly from the nice to have, as your budget requires.
5. Research
Research is part of the fun of a kitchen renovation. It's the hunt for all the details that will take your kitchen from ordinary to "wow". You can look at past projects on contractor sites, as well as all the home renovation centers, specialty stores, etc.
Some of the things to start researching include:
Cabinets
Countertops
Appliances
Flooring
Backsplashes
Colours
Faucets
Door Pulls
Storage features such as pull out pantries
Light fixtures
Consider not only the look but also the benefits of each product, durability and of course cost. Chart things out so you can make comparisons to help narrow things down when it comes to decision time.
For more information about remodelling your kitchen, call Avonlea Renovations at 416-907-7891 or contact us here.
Leave a Comment
The comments are closed.